Clipper 2002 Fleet in Cascais
November 7 -
Cascais, Portugal
All of the Clipper 2002 participants have finished Race 1 of Leg 1, with Hong Kong finishing first. New York, skippered by the first ever female Clipper skipper, finished just 5 minutes behind London, which came in second.
After spending the rest of this week in the Marina de Cascais, Leg 1 will continue on to Cuba, with a projected finish date of December 5. From Cuba, Leg 2 will take competitors through the Panama Canal to Hawaii. This is the only round the world race we can think of that goes through the Canal rather than around Cape Horn. It will, however round the Cape of Good Hope.
If you think you might be interested in a berth on Legs 3-6 (for a fee), a few are still available. Visit www.clipper-ventures.com for more information.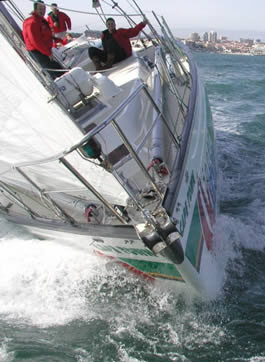 Cape Town, the last boat to finish Race 1, arrived yesterday after getting stuck on the wrong side of a low pressure system.
Photo Courtesy Clipper 2002