Round Robin Two Complete
November 4 - Auckland, NZ
The Oracle BMW Racing crew gave skipper Chris Dickson a fantastic birthday present on Sunday, winning both races, and leapfrogging up the leaderboard to finish Round Robin Two in second place.
The Louis Vuitton Cup now moves to the Quarter-Final stage of the regatta. Alinghi, the leader of the four boat 'double-chance' group had the honor of choosing its opponent from the other three. They've decided to race the defending champions, Prada Challenge, in the Quarter-Finals, which means Oracle BMW Racing will line up against OneWorld Challenge when racing resumes on Tuesday, November 12.
In the lower tier of competitors, the 'single-chance' group, the fifth placed Swedish Victory Challenge decided to take on the French Le Défi team. That leaves GBR Challenge to race Team Dennis Conner, Mascalzone Latino having been eliminated in Round Robin Two. The losing teams from this pair of matches will be eliminated from further competition, while the winners face the losers from the top group. There is a wide point spread between the top group and the bottom group, with the top group very close to each other in overall points.
For more, see www.louisvuittoncup.yahoo.com.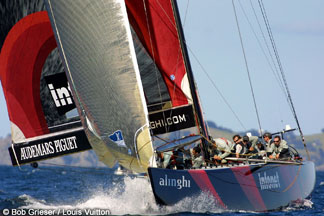 Alinghi, leader of the pack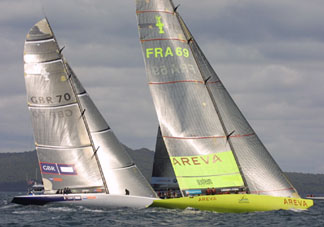 Mid-pack Wight Lightning racing Aréva, which
just squeaked through to the next round.
Photos Bob Grieser/Louis Vuitton Cup
Current rankings are:
1. Alinghi Swiss Challenge, with 13 points
2. Oracle BMW Racing, 12 points
3. OneWorld Challenge, 12 points
4. Prada Challenge, 11 points
5. Victory Challenge, 7 points
6. GBR Challenge, 7 points
7. Team Dennis Conner, 6 points
8. Le Défi Aréva, 2 points
9. Mascalzone Latino Challenge, 1 point