Bay Area Sailor Wins Women's World Championship
May 6 - Calpe Bay, Spain
Great news! San Rafael skipper Liz Baylis and crew Stacie Straw, Aimee Hess and Karina Shelton just won the 2002 ISAF Women's Match Racing World Championship in Calpe Bay, Spain. Sixteen of the best women match racers in the world - minus Denmark's Dorte Jensen, who won this prestigious event the last three years - came together between April 28-May 4 for a windy J/22 match racing series. Pre-race favorite Marie Bjorling and her #1-ranked Swedish team won the round-robin part of the competition,
and advanced to the finals with Liz (who was fourth in the round-robin, and went into the Worlds ranked eighth). Liz and crew won the first race of the finals, lost the second, and then came through in the crucial third race to win 2-1, and the celebrating began. Congratulations to Liz, Stacie, Aimee and Karina!
Results: 1) Liz Baylis, USA; 2) Marie Bjorling, SWE; 3) Anne Le Helley, FRA; 4) Cordelia Eglin, GBR; 5) Dawn Riley, USA; 6) Nina Petersen, DEN; 7) Sabrina Gurioli, ITA; 8) Lotte Meldgaard, ESP; 9) Sandy Grosvenor, USA; 10) Giula Conti, ITA. See www.cncalpe.com for full results and lots of pictures.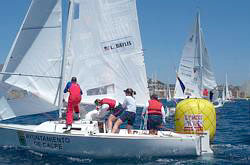 The event was sailed in J/22s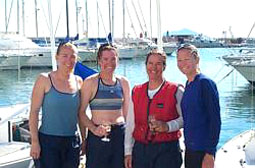 The happy winners
Photos Courtesy Club Nautico de Calpe