Photos of the Day
May 28 - San Francisco Bay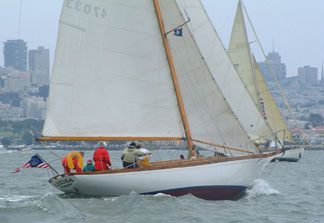 Lydia chases Bright Star at the start.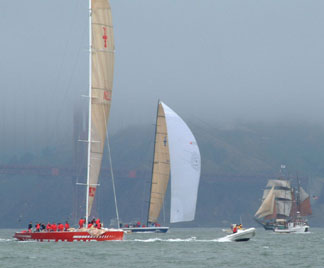 The IACC boats provided a nice contrast to the square sail tall ship ketch, Hawaiian Chieftain.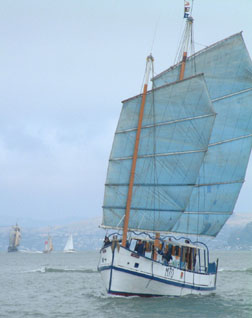 The junk-rigged Big Schooner Whitefin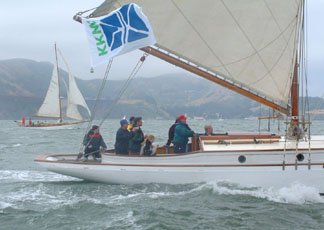 Yankee heads for the first mark, Little Harding, with Lydia in the background.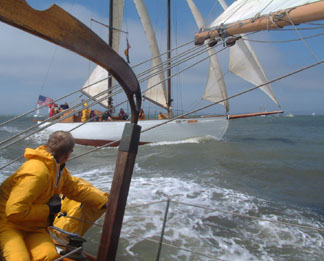 Aboard Dauntless, Tom Plotts grinds the fisherman and watches the schooner Landfall II, which is on our Circumnavigators' List. Dauntless, sponsored by Latitude 38, made the trip up from San Diego to win the Longest Distance Trophy.
Today's Photos of the Day are from the annual Master Mariners Regatta, raced on Saturday. The classic yachts started off a line between the St. Francis and Golden Gate Yacht Clubs, raced around the Central Bay, over to Southampton Shoals and down to Treasure Island, then cruised down the Estuary to Encinal YC and the traditional raft-up, dinner, awards ceremony and a zydeco band (this year even featured an impromptu water polo game in Encinal's pool).
The starts went off in reverse order from noon to one, and even by 10 am the Cityfront had as much wind as anyone could wish for. Of course, it built toward mid-afternoon as the sun came out. Results are available on the Master Mariners Web site at www.geocities.com/soho/8626/regatta.html. We'll be running more photos throughout the week, and of course we'll have full coverage in the June issue of Latitude 38, which hits the streets Friday.
Although today's 'Lectronic is brief, we'll be back in full force tomorrow, as a lot is going on out there we want to report on.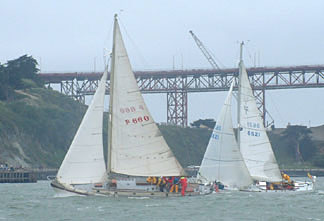 Nautigal leads Spirit to the second mark, Blackaller Buoy.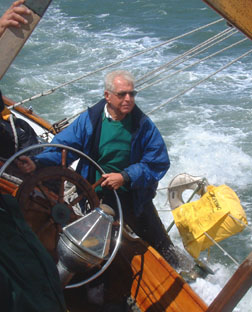 The schooner Dauntless buries the leeward rail (and skipper Paul Plotts' leg) and keeps on sailing just fine, thanks.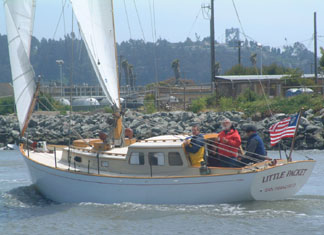 Little Packet coming in to the finish off Treasure Island.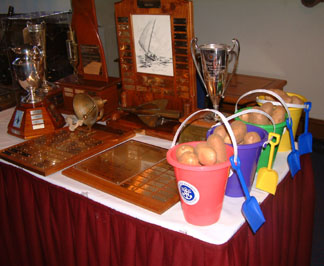 Displayed next to the perpetual trophies at the sponsors' luncheon earlier this month were four colorful sand pails full of potatoes. Ariane Paul of MMBA explains, "The potatoes are for the big schooners [such as Alma]. Because it is sometimes hard for them to round the marks, they are given the potatoes and have the option to throw them and hit the mark if they can't round it. It goes back to the races in the 1800s."
Photos Latitude/Chris