Photos of the Day
May 23 - St. Tropez and Nice, France
"I have a couple of Photos of the Day to share with you from during my visit to the South of France a couple of weeks ago," writes Jeannette of the Bristol 32 Con Te Partiro, a name she didn't translate. "While in St. Tropez, I came across the San Francisco schooner Athene, which was sure looking fine. Captain Christian said to say hello to you.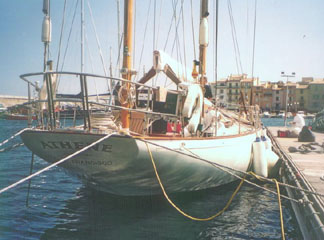 "The other photo relates to a reader's letter from the May Latitude 38. You were talking about this huge motoryacht with a fully rigged sailboat onboard that the reader had seen in Panama. Well the other - and at 323 feet, even larger - motoryacht, Le Grand Bleu was in the port of Nice on May 3, which is where I took the photo.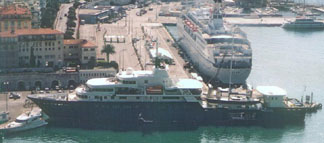 "While I've got you, I'd love to make one other comment. You often hear people say, 'If you can sail the Bay, you can sail anywhere.' I bought a Bristol 32 from Long Beach last year and brought it up the Coast in early November. As you know, there is a little place called Point Conception along the way. Well, I've never seen waves like that on the Bay before."
Thanks for the photographs, as they bring up fond memories. Although St. Tropez does get overrun and becomes a circus in the season, it's really a lovely place, and some of the pre-Bardot traditions endure. And you do get to see some very lovely boats there. In our opinion, however, by far the best places to see semi-great and great yachts is Port Vaubon, Antibes. It's fabulous. As for Le Grand Bleu, you can tell she's almost as large as the nearby cruise ship. And if you look closely, you can see the dark blue 72-ft Dubois sloop that lives on deck.
It's nonsense to say, "If you can sail the Bay, you can sail anywhere." On the other hand, "If you can sail in the Gulf of the Farallones, you can sail anywhere," is absolutely correct.
Photos Courtesy Con Te Partiro