The Worst Year in Memory for Baja Bashes
May 17 - Atlantic Ocean
We can't remember a year in which we've gotten such miserable reports on Baja Bashes. The latest is from Robert Sutherland of Mill Valley and the P.V. based Wylie 34 Echo:
"Holy shit what a trip up the coast! Fourteen days and 1,500 miles sailing Dorr Anderson's J/37 Blue Heron, doublehanded, to weather, heeling 15 to 25 degrees, and launching off waves. We must have been f--in' loco, but that's how a lot of great adventures start! I'm glad to have had the experience - and even gladder that it's behind me. I won't be doing that again anytime soon.
"We left Puerto Vallarta on April 18 for San Diego, because Dorr needed to put his boat up for sale ASAP, having already ordered a bigger new one. We originally started out doing the old clipper ship route, which would have taken us about 400 miles offshore. But being the racers that we are, we started playing the wind shifts, and found ourselves coming in on Cabo - which put us much further north than we expected. So we continued playing the westerly shift during the day and the northerly shift at night.
"We sailed all the way, except for about 10 or 12 hours that we didn't have wind. The average wind speeds were 15-20 knots, with 4 to 5-ft steep and lumpy seas. so we had to keep the boat slowed down to 5 knots so as to not launch off waves more than every couple of minutes. That launching and banging is worse than Chinese water torture! We also had three days of 25 knots gusting to 30 knots, which increased the seas to eight feet - so we really had to slow down. During this time, I hand-steered for a couple of hours each day just for fun and exercise - just like a video game, except you got very wet when you screwed up! We stopped in Turtle Bay on day eleven for fresh food, topped up the fuel tank and headed back out after about six hours to try to get around the point in the middle of the night while it's not blowing so hard, but it was still blowing. It never seemed to stop blowing, and always in our faces. Of course, that's why they call it the Baja Bash."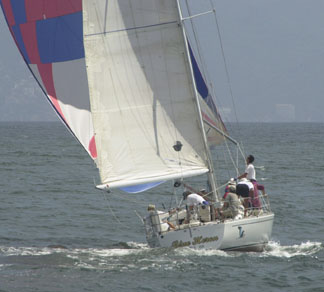 This is Blue Heron, but this was not the point
of sail she was on coming up the coast.
Photo Latitude Archives