Saved by a Nerf Football
May 14 - San Diego
"Okay, I finally finished the Baja Bash," reports Adam Sadeg of the Alameda-based Morgan 38 Blarney3, "but it wasn't easy. Some 178 miles south of San Diego, I was motorsailing - which is what you have to do to get upwind in waves - in about 18 knots on the nose, when the engine started to rev higher. I figured my prop must have fallen off, so I went in the engine compartment to see if I could see the shaft turning from forward momentum. To my surprise, I only found part of a prop shaft - and a whole bunch of water. It seems my prop shaft decided to break just north of the packing gland. Ouch! Then a whole bunch of water decided to pour into my boat. Ahhhhhhh! I ran all over the boat looking for something to cover the packing gland - maybe a piece of rubber or a bag that I could hose clamp to the packing to hold the water out. That's when I stumbled across the Nerf football! I took it to the galley, cut the end off, and then shoved it into the hole, wrapped a towel around the packing, and tied it all up with some 3/16" line. Take a Nerf football to Mexico, play with it on the beach, then use it to plug a hole in your boat. Nerf football, don't go cruising without one.
"Needless to say, it was a long 178-mile sail the rest of the way to San Diego, taking me two days. Mike and Lee Brown's Little Harbor 53 Wings was patient enough to hang around and make sure I didn't sink or end up on a lee shore. Now I'm at the San Diego YC, waiting for my next adventure. Chances are that it will probably end up being prepping the boat for a truck ride to San Francisco. Oh well, I'm glad to have the Bash out of the way. Man what a nasty coast during the spring. And it's a whole long way, without anyone or anything anywhere. It blows like stink every day this time of year, and fellow cruisers are stranded everywhere, wishing they were in San Diego."
Given this year's particularly nasty Bash conditions, perhaps a lot more Mexico cruisers will truck their boats home from San Carlos in the Sea of Cortez.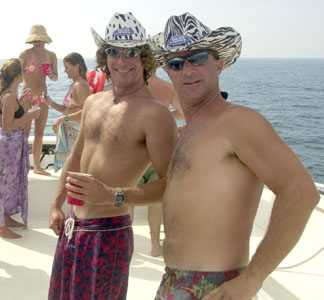 Rob of Sol Mates and Adam of Blarney3. The former lost the steering on his Pearson 36 coming north, the latter lost his prop shaft.
Photo Latitude/Richard