Beach Cat Bet
May 10 - Tybee Island, GA
It began as a bar room bet over a couple of beers in Worrell Bros., the Virginia Beach resort restaurant that was owned by Michael and his brother Chris. The bet: that one could not sail a 16-foot catamaran from Virginia Beach, VA, to Florida.
On October 1, 1974, Michael and crew Steve McGarrett shoved off from the beach in front of the restaurant bound for Florida. After 20 days, two hurricanes, and numerous boat repairs, they made it as far as Fort Lauderdale before their catamaran succumbed to the rigors of the bet.
Intrigued by the challenge of the rugged trip, Worrell, who as a surfer, lifeguard, and later in business, had always been around the ocean, decided to raise the ante and create a radical new type of sailboat race.
In May 1976, four other teams were also inspired by the challenge and entered the inaugural Worrell Bros. Coastwise Race. For that first race, limited to 16-foot Hobie Cats, the rules were almost fewer than the sailors. Sail day and night, come ashore and phone the restaurant once every 24 hours. The first boat to the finish wins. To take advantage of the prevailing winds the course was reversed with the start in Fort Lauderdale and the finish in Virginia Beach.
At 3:10am of the 11th day, Worrell and crew Guerry Beatson, the only team to finish, came ashore on the beach across from the brothers' restaurant.
This year, 18 sponsored teams are competing in the Worrell 1000, currently sailing Leg 6 from Jacksonville Beach, FL, to Tybee Island, GA. As you can see, this extreme event makes for some exciting photography. Here we have but a small taste of Walter Cooper's pictures on www.worrell1000.com. When you check out the Web site, don't miss the series of PYacht Men in Leg 3. (These photos are actually from last year's event, but one hopes new photos will be posted soon.)
See also Catamaran Sailor's Web site at www.catsailor.com/worrell02/worrell02.html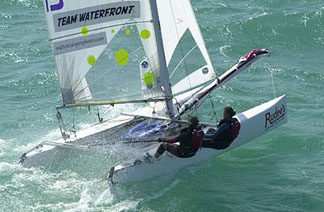 PYacht Women raced last year. No female teams are participating this year.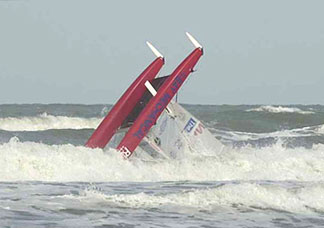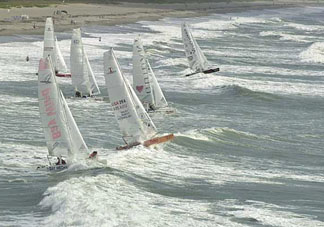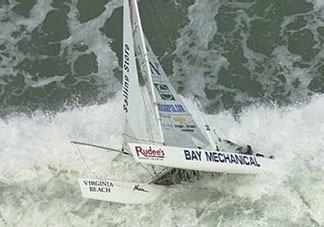 Team Castrol won Leg 5.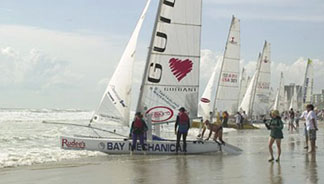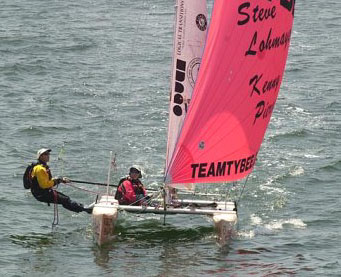 Team Tybee Island are in first place overall.
Photos Walter Cooper
www.worrell1000.com