Disney's Pyewacket Cleans Up Heineken
March 4 - St. Maarten
Two hundred and thirty boats in 17 classes from 31 countries showed up to compete in last weekend's 22nd annual St. Maarten Heineken Regatta. Roy Disney's Marina del Rey-based R/P 75 Pyewacket walked away with honors, taking four bullets and putting in the best monohull time in the around-the-island race. The only boat that bested Pyewacket was the 60-ft trimaran Paragon, which had the best around-the-island time of 3 hours and 12 minutes, beating the monohull by 23 minutes.
The first two days of racing in the three-day event featured 14 to 18 knots of wind, and finished on Sunday with 18 to 24 knots - with gusts to 30. No matter how hard it blew, it was always warm. Come nightfall, the beer and rum flowed, and the booties shook into the wee hours. The 'Heinie' is something of a unique event in that everybody is invited and seems to participate - regular racing boats, beach cats, big multihulls, tall ships, and 12 Meters. And the whole island gets behind the event like no other place in the world.
The sailing action, as you might expect, was terrific, and in one class the overall winner was decided by just two seconds. And there were some exciting incidents. The 72-ft Donnybrook shredded two chutes on Sunday, two Melges 24s were dismasted, and a two-boat collision resulted in the bowman on Water World being catapulted overboard.
We're expecting to get lots of photos for posting in the next few days, meanwhile, you'll have to live with an aerial shot of St. Maarten and a shot of Doña de Mallorca lounging in the main salon of Water Music, the 60-ft cat that took overall honors in the multihull class. The all carbon Water Music - which has tiller steering at the back of each hull as well as a wheel behind the bulkhead - is for sale for $700,000.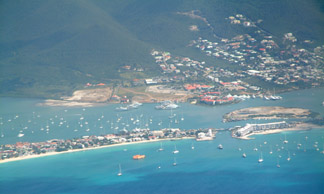 St. Maarten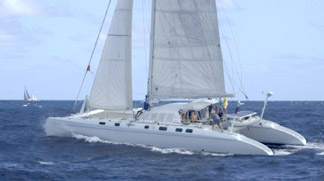 Water Music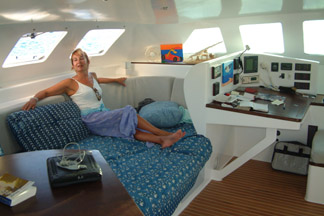 Aboard Water Music
Photos Latitude/Richard