Forster Freed from Clutches of Transvestite!
March 25 - Rio de Janeiro, Brazil
It's been a bad year for journalists, but at least one got out of a dicey situation - at least a dicey situation for a yachting photographer. Barry Pickthall reports:
"With typical precision timing, Swiss photographer Daniel Forster was released from jail in Rio early today, just in time to catch a flight to Miami to photograph the Volvo Race fleet. Photographer Forster was freed from the clutches of a transvestite with whom he had been forced to share a cell - and other things - thanks to a worldwide thrash for cash by his journalist chums. The greatest thanks go to Big Bob Greiser of San Diego, who offered to loan $10,000 to the campaign to get our man out. At a press conference today (see photo below), a heavily disguised Barry Pickthall, left, praised everyone who had sent messages of support and money. Mercifully Daniel, right, looked none the worse for his two-week ordeal. Indeed, if anything, he looked younger than when he went in. This he says is due to the care and attention - not to mention body lotions - lavished on him by his new found friend Christina. Hello magazine, who have bought exclusive rights to this gruesome story, have snapped up Daniel's film and the full extent of his time in jail will be revealed in next week's edition."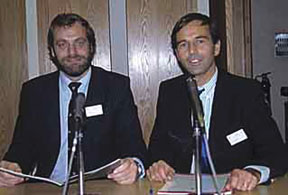 Barr Pickthall (left) and Daniel Forster
Photo Courtesy Barry Pickthall
Let's see, Barry got the 'who', the 'where', and sort of the 'when' of the story, but not the 'why'. For gawd's sake Barry, why did Forster have to spend two weeks in a Rio slammer?