How Fast Are Production Cruising Cats?
March 22 - New York
As a catamaran owner, we're often disgusted about the ridiculous speed claims made by some multihull sailors, and by their lame excuses for slow times. So here's something really great. The folks at Catana are sending a top flight French crew aboard a stock Catana 582 from New York to France to see how fast they can do it. They are being aided by a weather router. They left New York last night in decent conditions . . . that soon went to hell. "It's cold, it's rough, and it's raining," they report. It's also been blowing as hard as 50 knots, so they've been sailing with a triple-reefed main and a partially furled Solent. Despite the crappy conditions, they've hit 29 knots - we are impressed! - and are averaging about 10 knots.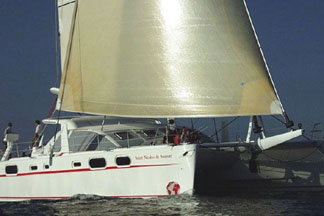 Saint Nicolas de Sauzon III
Photo Courtesy Catana
Catana hopes that their boat can cover the 2,925-mile course at better than 11.92 knots, which is the speed Eric Taberly did it in 20 years ago with the foiler trimaran Paul Ricard to beat Charlie Barr's legendary recording with the schooner America. If they do, they'll be doing it in style, as the stock boat is equipped with air conditioning, a washer and dryer, wood paneling, leather upholstery, and the like.
We think this is a totally cool stunt, and salute Catana for not just talking the talk, but walking the walk. For updates, visit www.catana-live.com.