The Heinie Is On, and the Weather Is Perfect
March 1 - St. Maarten
The 22nd annual St. Maarten Heineken Regatta started today, with a staggering 300 boats in 17 classes from 31 countries. Conditions are an idyllic 12 to 18 knots of wind in moderate seas, with tropical sun. In addition to the regular regatta, there is the Scotiabank Tallship Race & Parade, the Caribbean Big Boat Series, and a special 12 Meter Exhibition class.
The big boat class is drawing a lot of attention, with California's Roy Disney having entered Pyewacket, his Reichel-Pugh 75. Other vessels in the class include James Muldoon's Santa Cruz 72 Donnybrook, Bill Alcott's Santa Cruz 70 Equation, Trey Fitzgibbons' Meritan 65 Mischievous, Simon Handley's Canadian 12 meter Geronimo, and Tom Hill's Andrews 70 Titan. Famed French multihull racer Laurent Bourgnon will be on Orange, a Custom 46 catamaran.
A new class this year is the Open Class, an informal, 'non-serious' class to attract the less competitive vessels which might not otherwise enter the regatta. The basic aim is to allow more people on a wider variety of cruising craft to take part in the St. Maarten Heineken Regatta - without the hassle of a formal CSA rating certificate, etc. Before the first race, a participating vessel be given a simplified CSA rating based upon the numerical data supplied to the race committee. After each race, that rating will be adjusted based on performance.
The regatta Web site at www.heinekenregatta.com has daily race results in real time, class divisions, boat and rating data and the results of previous regattas.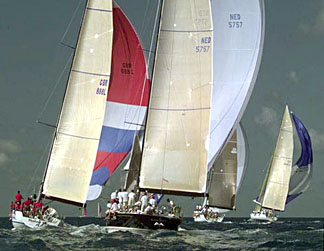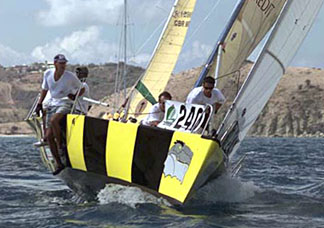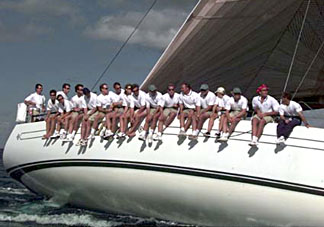 A sample of last year's action
Photos Bob Grieser
Courtesy Heineken Regatta