Surfing the Entrance at El Salvador
June 7 - Bahia Del Sol, El Salvador
"We arrived at Bahia Del Sol, El Salvador, yesterday afternoon after setting out on the beach for seven hours with this huge - and I mean huge! - swell running," reports Guy Bunting of the M&M 46 cat Elan.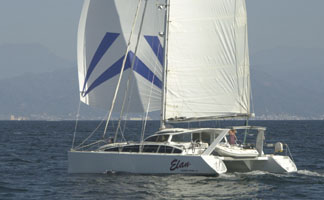 Photo Latitude/Richard
"The breakers on the bar were so big that we could clearly see them on radar from four miles out. So, the guide boat comes out to get us a few hours before slack when the waves are looking a little better. Now, I'm assuming there's a path through the bar. A kind of serpentine affair - slip between this set of breakers, run parallel through a calm zone, then slip inside sort of thing. That's for sissies! What WE do is find slot with sort of smaller waves and floor it! I see the damn guide panga disappear - totally disappear - behind a huge wave running straight into the lagoon. Christ! So I floor it and never look back. Suddenly Elan's stern lifts, and when I look back, I say, "Oh shit!" Elan takes off exactly like a surfer on a wave, and we catch the wave. With the engines throttled back, we hit 17 knots as we ride it out. The guy driving the panga in front looked back at us with eyes as big as pancakes as we bore down on him. I'm giving him a look that says, 'We've got no brakes, you know.' Once we got in, the entrada was closed for existing boats for more than two weeks. It was sort of a 'you can check in any time you want, but you can never leave' deal. But it's open now."