Photos of the Day
June 26 - Pacific Ocean
Today's Graphic of the Day is of the weather chart for the waters between San Francisco and Hawaii, which are now being sailed by the eight boats in the 13th running of the Singlehanded Sailing Society singlehanded race to Kauai. Ten days into the race, you can see that there's light to moderate wind - which has pretty much been the case since the start.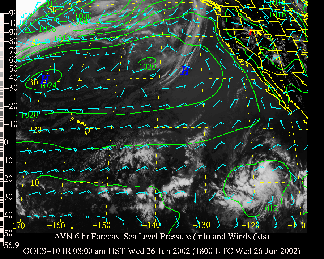 In a typical race from San Francisco to Hawaii, a sailor can expect the first two days to feature strong northwesterly winds and mean seas, followed by less boisterous conditions but endless days of dull overcast. Not this time.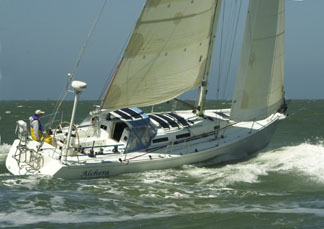 The fleet reported getting away on June 15 in 18 to 22 knots of wind and moderate seas. On the second day, Mark Deppe of the San Francisco-based J/120 Alchera reported "10 to 15 knots of wind, blue skies, warm breezes - almost like we're in the tropics already." If any singlehander reported warm breezes two days out of San Francisco, we'd have thought he'd flipped, but others in the fleet were concurring.

On the third day out, Steve Wilson of the Alameda-based Westerly reported yet another day of "very pleasant sailing conditions." You know those kind of conditions couldn't last, and they didn't, as on the fourth day Lou Freeman of the San Diego based Swan 51 Seabird was reporting not just pleasant conditions, but "great" conditions. At the time, Jim Kellam on the Port Roberts-based Spencer 35 Haulback reported having had runs of 151, 163, and 164 miles - very respectable for such an older design. But where was the normally reliable overcast? Deppe on Alchera reported that the Milky Way was "ablaze with light. I take 10 minutes just staring up at the sky."

On July 19, the fleet finally reported stronger winds - 20 to 25 knots - for a brief time. Deppe on Alchera reported speeds up to 13 knots before the wind dropped to less than 10 knots as he was skirting the Pacific High.

The sixth day out was 10 to 15 knots with light rain, with a little more breeze in the afternoon. A few boats were carrying chutes - or had tried to carry them - while many were resorting to twin headsails to deal with the mostly DDW conditions. What all singlehanders were learning is that is takes forever for one person to do everything. Complete sailing changes - even in these ideal conditions - took two or three hours. And given the fact that many were sleeping for no more than 20 minutes at a time, some skippers were getting bushed.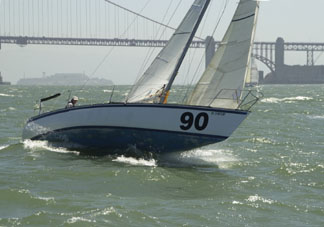 Photos Latitude/JR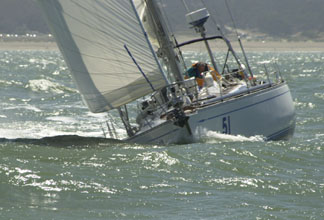 On July 21, Deppe reported very little wind, but that he was at last halfway across. With 1040 miles to go, he had a 105-mile lead over Freeman on Seabird, a 111-mile lead on Erik Schartz on the San Francisco-based Santa Cruz 40 Rusalka, and a 115-mile lead on Tony Carr and the Alameda-based Hobie 33 Tease.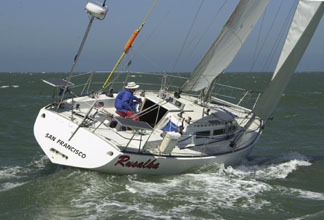 On July 22, it was more light breezes and flat water - although there was, as normal, a little more wind for the southerly boats. As is also normal, some of the singlehanders were experiencing various forms of disorientation. Deppe reported that "I've started to have flashbacks from when I did this trip back in '96. It happened just as I wake up and realize that I'm on a boat, laying in the quarterberth, sailing to Hawaii, but something's wrong, everything is switched around, what's happening to me? That's because the quarterberth on Alchera is on the opposite side from that of my last boat. But my mind goes through this momentary state of panic when it realizes that reality doesn't conform to its model of the world. I've also started hearing the little voices that the boat makes. Little noises that sound like someone talking just out of the range of hearing, or like a party going on where you can make out several different conversations but not well enough to understand anything. And the ghosts in your peripheral vision, like someone standing just out of your sight."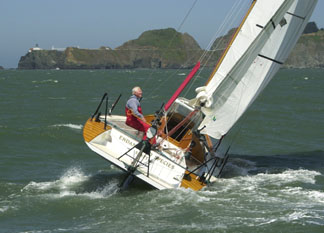 June 23 was more light air with Kauai DDW. Boats were having to gibe downwind, and skippers were hoping for any kind of wind shift that would allow them to sail more effectively toward the finish.
Yesterday's report was of more light wind. Deppe, the leader, was frustrated to the point of saying that it "sucked", as they'd all entered the event to do some surfing, but there was neither the wind nor waves necessary. Equally as frustrating was the fact he kept hearing voices that said, "Got milk? Got Milk"? At last report, Deppe had built his lead and was 478 miles out of Hanalei Bay.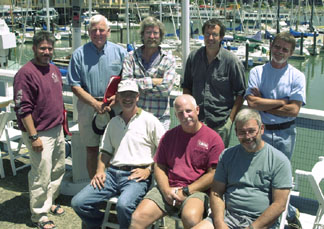 Here's a photo of the skippers, left to right, starting at the top: Erik Schwartz, John Guzzwell, Steve Wilson, Tony Carr, Jim Kellam, and in the front row, Mark Deppe, Jim Tallet, and Lou Freeman.