Disney Does It Again - This Time to Bermuda
June 17 - Bermuda
After trailing the 635-mile Newport to Bermuda race in the early going by as much as eight miles, Roy Disney and crew aboard the R/P 75 Pyewacket turned on the juice to finish first and smash the old course record by nearly four hours. In averaging 11.9 knots, they knocked about 7% off the old record. There were 182 entries - a record - in this 43rd running of the event.
Pyewacket faced good competition, as George Coumantaros' Boomerang, former course record holder, and Hasso Plattner's Morning Glory held the lead after a quarter of the race. Pyewacket had small leads over Bright Star and Blue Yankee. But as the race went on, Pyewacket charged ahead in 20 to 30-knot winds. She eventually finished about 25 minutes ahead of Boomerang, which also broke the old course record. It was a breezy race, in which a number of boats had to drop out. Fred Detweiler's 70-ft Trader had her mast snap in three places after she fell off the back of a wave.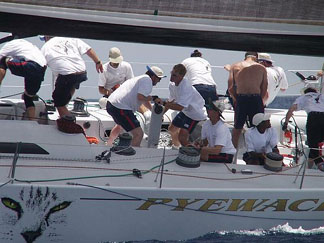 Photo Tim Wright
This last winter, Roy Disney, one of the really nice guys in sailing, took his R/P to the Caribbean and kicked butt. No matter if it was the BVI Regatta, the Heineken, or Antigua Sailing, he and his talented crew walked away from the fleet. The only fly in the ointment was that the competition wasn't as good as in some years. In the Bermuda Race, he faced good competition and still won.