Photos of the Day
June 12 - San Francisco Bay
Today's Photos of the Day are of Melinda Erkelens, Legal Counsel for Oracle Racing, showing the proper way to christen a boat, while her husband, Bill, Oracle Racing's Chief Operating Officer, looks on. Women are frequently too delicate with the bottle, not breaking it on the first try.
The boat in question was USA-71, the first of Oracle Racing's two new boats, both of which were built at their facility in Ventura. USA-76, Oracle's second boat, will arrive in Auckland in early July. While Oracle's trial boats featured white hulls, the new one has a charcoal gray hull with Oracle on the bow in bright red.
Many of the 140+ members of the Oracle Team were on hand for the ceremony. Conspiculously absent was Larry Ellison, the man behind Oracle and Oracle Racing. We wouldn't read anything into his absence.
For longtime Bay Area sailors, it was great to see Bill and Melinda in the spotlight. These are locally grown folks who are nice people - and excellent sailors. We remember being at the Kaneohe YC in Hawaii about 10 years ago when the two came in, having finished first and correcting out first in the West Marine Pacific Cup with a 26-ft hard chine boat.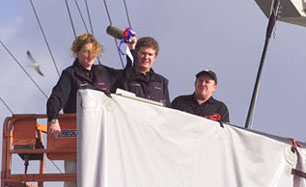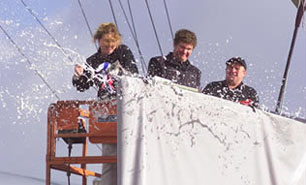 Photos Courtesy Oracle Racing
After the christening, USA-71 was taken out into the Hauraki Gulf for tuning. When the other boat arrives in July, the team will go into even more intense training. The Louis Vuitton Challenger series starts in October. The America's Cup Finals will be early next year. Oracle Racing flies the Golden Gate YC burgee.
What other syndicates have launched new generation boats? Alinghi, Victory, Dennis Conner, OneWorld (two of them), GBR, Mascalzone Latino, Prada Challenge, and Le Defi's Greenpeace Nuclear Challenge.