Delta Ditch Run
June 11 - Richmond to Stockton
Light to no air in the first part of the Ditch Run let the ebb get ahead of the fleet and made for a later-than-usual finish for an even 100 boats in this fun-in-the-sun 67-mile run to Stockton. The bigger, more traditional boats got to practice their peels, sets and douses, while the sportboats jibed past on their way to glory, and everyone got to work on their tans in the crystal clear heat. The Melges 24 Trailblazer, sailed by Zarko Dragonic and Don Jesberg, corrected out first overall (the Melgi, including a 30 and a 32, packed the top ten). Second went to John Rickard of the Cheetah 30 Spinout, a SoCal boat. Dennis Bassano and Mario Golsh took third on the Moore 24 prototype, Summertime. For all the results, the full story, and more photos, see Racing Sheet in the July edition of Latitude 38. Organizers' Web sites www.richmondyc.org and www.stocktonsc.org should have results up soon.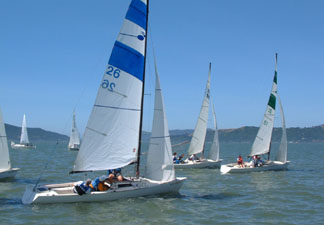 Wabbits did well in the overall standings,
a clump of them taking the 10-13 positions.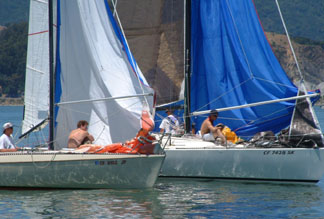 Once past the Brothers, the breeze shut off completely. Knotmeters and True Wind Speed instruments registered big fat zeroes while GPSs confirmed that we were drifting in the right direction at 1-2 knots on the waning flood.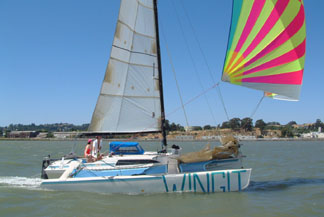 The F-27 Wingit zips past Benicia.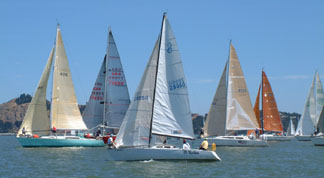 The Lt1/Express 27 division catches up to the Hv1/Sportboat division at the light air, port tack reaching start.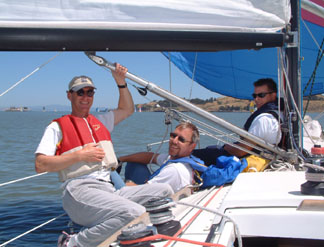 Fortunately for Bill, Jeff and Craig on Two Scoops, their crew weight was needed right where there was a bit of shade.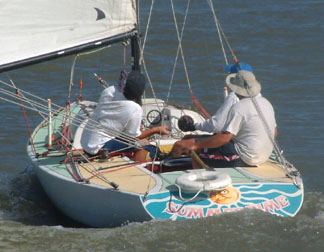 The Delta Ditch Run in a word: Summertime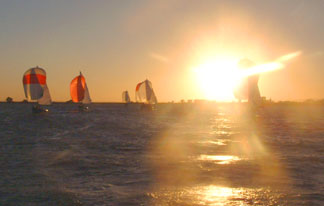 Sunset on the San Joaquin, and still plenty of wind.
The Strait, Suisun Bay, and the river
had good breeze, 17-26 knots.
Photos Latitude/Chris