Men Are from Mars - and This Proves It
July 25 -
New York, NY
In what seems like the answer to a question nobody asked, sailor/adventurer Reid Stowe plans to singlehand his 70-ft schooner Anne from New York to the middle of the ocean - well, actually the middle of several oceans - and stay out there for 1,000 days. He's not headed anywhere. The goal is to stay out of sight of land longer than any voyager before. Stowe has dubbed the project the Mars Ocean Odyssey because 1,000 days is the expected duration of a journey to the Red Planet.
Stowe, who turns 50 this year, designed and built Anne in 1978 and has lived aboard ever since. No other voyager in history, from Vasco de Gama to the Mir astronauts, has been out of contact with terra firma for as long as Stowe's planned 1,000 days. The existing 'record' is held by Australian sailor John Sanders who took 657 days to sail around the world three times, also alone.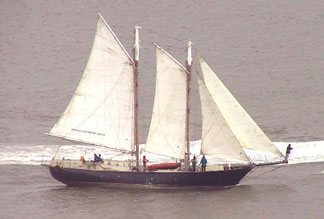 The schooner Anne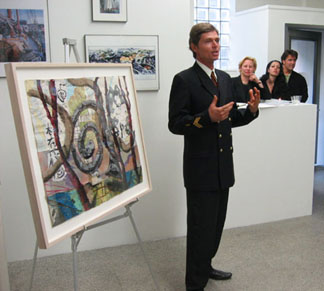 Captain Stowe hosts a gallery showing of his artwork.
Sales go towards financing the expedition.
Photos Courtesy Mars Ocean Odyssey
Stowe's departure date is set for November 24. If all goes as planned, he won't return to New York Harbor until sometime in September of 2005. You can learn more about Stowe's voyage, which includes an interactive educational tie-in, at www.1000days.net.
Stowe's wife, who is apparently not from Mars, opted not to go.