Photo Funnies Caption Contest
July 24 - The Wild Waters of Sausalito
Thanks to everyone who wrote in with suggestions for our photo caption contest.
Many responses made a play on the word 'buck' and/or 'doe', as in "Dinghy rides for a buck," from Denis Inman, "Has anyone seen my buck 'n dinghy?" (Bob C.) and "If I had some doe I would have bought a bigger boat!" "Just as soon as I collect a few more 'bucks' I'll order the sail and oars!" (both from Ted Waffa). Some, such as David Lewis, made the 'stag cruise' connection.
If there were a prize for the longest list of captions, Scott Keck would win. Our favorite of his: "The way you look just before Mari-Cha III T-bones you on port tack."
Kudos to those of you who correctly identified the dinghy as an El Toro, rather than a rowboat. Sailing writer Kimball Livingston wrote, "Everyone leads the Bullship for 15 seconds."
But the universal favorite around the office and winner of a Roving Reporter T-shirt came from Vanessa Workman, "For sale: One small boat, under a buck."
And yes, the picture was Photoshop-assisted.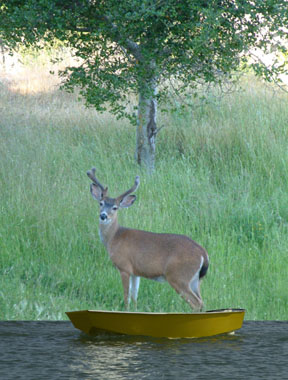 Photo Latitude/Rob & Annie