It's Official - Courageous to Sail Again
July 23 - Portsmouth, RI
Courageous, the official Rhode Island State Yacht, will be re-christened by
the Courageous Foundation, headed by Craig Millard, and launched this Saturday, July 27, at 4 pm, at the Hinckley Yacht Yard in Portsmouth, where she has undergone a one-million-dollar restoration.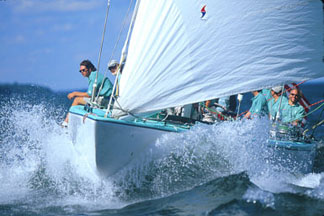 Photo Courtesy Media Pro
The 67-ft 12 Meter, skippered by Ted Hood, won the America's Cup in 1974, and then won it again in 1977, with Ted Turner and Dennis Conner at the helm. Courageous was recently acquired by the Courageous Foundation for the major renovation. Along with a new keel, mast, spars, rigging and sails, the yacht's deck and transom have been restored to their 1977 configuration.
The re-christening will feature the traditional breaking of a bottle of champagne on the bow of the boat. She will then be lowered into the water and available for tours and photo ops. Expected to be on hand are members of the winning 1974 and 1977 America's Cup campaigns, including Dennis Conner and Ted Hood, along with Rhode Island State dignitaries.