Photo of the Day
July 22 - Newport Beach
Rich Roberts reports from SoCal, "A trio of teenagers flying the Union Jack as their burgee and singing 'Rule Britannia' before their crucial matches won all 15 of their races to bring the UK its first victory in the 36 years of the Governor's Cup Sunday."
Hosted by Balboa Yacht Club, the Governor's Cup features team competition is a match-racing format with on the water umpiring.
"Skipper Paul Campbell-James, 19, of Southampton; trimmer Alex Cherry, 19, Brighton, and bowman Paul Burgoine, 18, Coventry, represented the Royal Yachting Association of Seaford in East Sussex, England. Moments after crossing the final finish line to dispatch Mark Dorling's Royal Sydney Yacht Squadron team, 2-0, they pulled off their shirts and performed a forward flip dive into the Pacific to celebrate.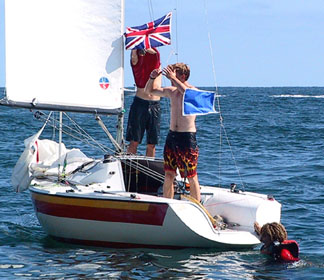 Photo Rich Roberts
"Twelve three-person crews representing clubs from the UK, Australia, New Zealand and across the U.S. sailed Santana 20s in winds of 5 to 10 knots [July 16-21].
"Defending champion Simon Minoprio and his team from the Royal New Zealand YC went down before the Brits, 2-0, but defeated Dan Corlett's Royal Prince Alfred team from Sydney, 2-0, for third place. After the 'all-royal' sailoffs, the top U.S. finisher was Mission Bay YC from San Diego, led by skipper Piet VanOs, in fifth place. An all-girl team from the St. Petersburg (FL) YC won one race.
"The crews rotated boats after every race, but it made no difference to Campbell-James and his lads which one they sailed." For Rich's complete story, more photos, and results, see http://yachtracing.com/richroberts/governorscup.html. See also www.bycgovernorscup.com.