Baja Birthday
July 2 - Sea of Cortez
"While going through some photographs, I came across one taken on my birthday last July, and wanted to pass it along," write Donna Maloney and Howard Biolos, who are again spending another summer aboard Nintai in the Sea of Cortez. "I'm the one wearing the pink hat and the very stylish blue and white pajama top - hey, it's doesn't matter if people laugh as long as it keeps me from getting sunburned. The photo was taken in July of last year at Puerto Escondido near Loreto. For those of you who haven't been there, it's like a sunken volcano, which offers great protection from the wind and swell. Two summers ago, there were hardly any boats there. But in the summer of 2001, there were a bunch of boats. Within the Puerto Escondido there are a bunch of coves, and some bored cruisers named one of them 'Cocktail Cove'. To improve on Nature, they put a concrete block on the bottom to which they attached a line to a floating 'table' made from a 2 by 3-foot piece of Styrofoam. They used other concrete blocks for 'seats' at the table and to tie the dinghies up.
"The weather in the Sea was very hot, so almost every afternoon at 6 p.m., some of the cruisers would meet in the cove for drinks and snacks. When we sat on the concrete blocks, our bodies were submerged up to our necks while we ate and drank. The snacks were placed on the floating table, which was pushed around so everybody could get some. That way nobody had to get out of the refreshing water to get something to eat or drink.
"On this day in particular, Howard really surprised me. Earlier in the day he'd made the 40-minute - each way - trip to Loreto, where he bought me a birthday cake. Boy, was I surprised when someone drove up to Cocktail Cove in a dinghy, took out a large cake for me, and everybody started singing Happy Birthday. How often does a gal get a surprise pink and white birthday cake while having a drink and sitting up to her boobs in very warm water with little colored fish swimming between her legs while friends sing Happy Birthday?"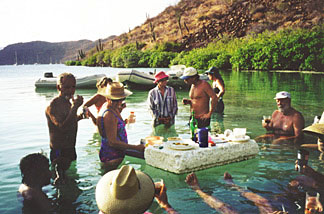 Photo Courtesy Nintai