Construction of World's Largest Sailing Yacht Picks Up the Pace
July 19 - Southampton, UK
Construction of the Ron Holland designed 245-ft composite sloop Mirabella V for Joseph V. Vittoria, the former head of Avis, has reached an exciting stage at Vosper Thornycroft in Southampton, England. After months of painstakingly building the hull mold and then constructing twelve layers of Kevlar and E-Glass with a PVC foam core, the fitting of hull stringers, bulkheads, ring
frames, and equipment is now happening at a comparatively breathtaking
speed.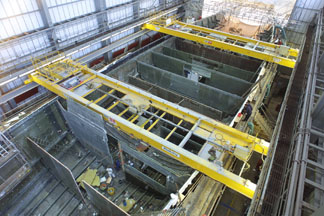 Yes, that is a picture of a boat hull under construction. There are
actually people in the photo, but they may too small for you to make out.
Just as visually impressive is the 295-ft mast mold. The mast is being manufactured in halves, with one comprising a complete length and the other
divided into three sections. An estimated five tons of cabling will be fitted within the hollow center of the mast, including a mass of sensors to monitor the rig loads.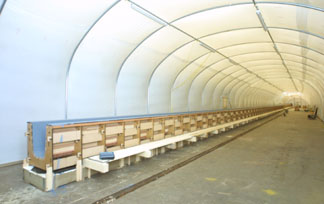 Just the real estate required to house construction is mind-boggling.
Photos Courtesy Ron Holland Design
Mirabella V will join the Vittorias' other superyachts, Mirabella and Mirabella III, in providing luxury corporate and private charters during the winter of 2003/4 in the Caribbean and Mediterranean. Twelve guests, pampered by 14 crew, can be accommodated aboard Mirabella V. Equally, with a very spacious saloon and a high tech entertainment system that includes an open air cinema on the sky deck, Mirabella V can serve as a corporate conference venue. Other features include a Jacuzzi, pool, gym, sauna, motor launch, 2 high performance tenders, diving gear, 4 sailing dinghies, 2 remote control model yachts and 2 jet skis.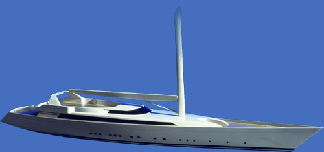 Graphic Courtesy Mirabella Yachts
A week on board Mirabella V for 12 guests will cost US$250,000. The first charter has already been confirmed for the Caribbean in 2003.
Construction diary available on www.mirabellayachts.com. Also see www.ronhollanddesign.com.