Photo of the Day
July 17 - San Francisco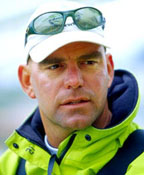 Today's Photo of the Day is of John Kostecki of Fairfax - winner of the recently completed Volvo (Around The World) Ocean Race with the German-owned illbruck, and the new owner of the 24-hour monohull speed record - who was celebrated at the St. Francis YC last night by a crowd of well over 300. John was introduced by fellow club member Paul Cayard, who had won the previous edition of the event when it was called the Whitbread. St. Francis members took considerable pride in the fact that two of their own - who had been nurtured from youngsters in their junior program - had scaled the summit of offshore ocean racing, particularly in an event based on the other side of the world. The club richly deserves to take a bow.
For those who don't know Kostecki, he's a regular guy who doesn't put on airs. His team won the Volvo by using extreme care in selecting the crew, relentless preparation, and then sailing better than anyone else. It's always the toughest when you have the favored boat, but Kostecki and crew were up to the enormous challenge. Well done, John.
What's next? Kostecki will head down to New Zealand for the America's Cup. He can't participate, however, as he helped designed the German illbruck boat, which will not be racing this time. (Maybe in '06.)
The Volvo is an extreme race that lasts 11 months and takes the fleet through the most demanding of the Southern Ocean and the frustrating doldrums. So Kostecki is not sure if he wants to do another, but would be more inclined to do so if they use bigger and faster boats - as is now being considered. The one thing that John said he did want to do - and this was a shock to us - was a nonstop around the world race on a maxi multihull.