PICYA Championships
July 16 - San Francisco
Results are in from last weekend's PICYA Big Lipton/Larry Knight/Little Lipton/Admiral's Cup. They should be posted on www.picya.org soon. In the meantime, here's a teaser:
In the Big Lipton (PHRF 48-99), Bill Melbostad of San Francisco YC driving the J/120 El Ocaso with 1,2,2 squeezed by Kim Desenberg of Richmond YC on the Beneteau 40.7 Mojo Rising with 2,1,3. In the Larry Knight Class (100-156), the SFYC again emerged victorious, with David Walker's Custom Mull 32 The Shadow winning 2 out of 3 races. Little Lipton (157-206) went to Island YC and Dan Newland's Hawkfarm Redhawk. The Admiral's Cup featured a three-way tie between Michael Mathiasen of IYC sailing the 24-ft Killer Whale Dulcinea and the Tuna 22s Soliton, RYC, Mark Lowry, and perennial winner Summertime Blues, SFYC, Tim McGowan, with 6 points each. Dulcinea won the tiebreaker.
Check out our photos and coverage in the August issue of Latitude 38 too!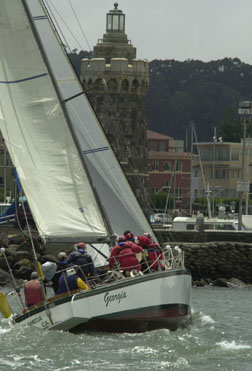 Georgia, a Van de Stat 40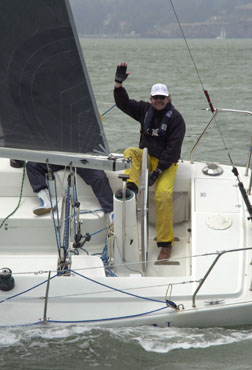 Don Wieneke at the helm of the J/105 Orion
Photos Latitude/Rob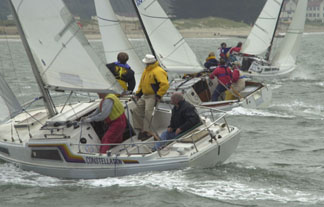 John Super chases a couple of Tunas in
his Islander Bahama 24 Constellation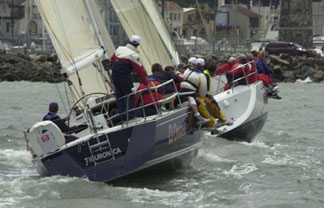 El Ocaso won the Big Lipton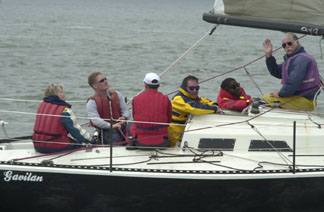 Jocelyn Nash driving, Chris Nash waving,
and crew aboard El Gavilan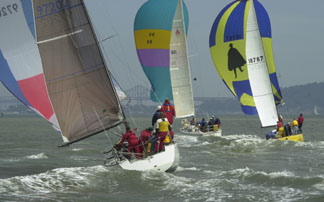 IXXIS, Jammin' Too and The Shadow on the run

The Shadow won the Larry Knight