Photos of the Day
July 15 - San Francisco
Today's Photos of the Day are from Friday's last start of this year's West Marine Pacific Cup to Hawaii. If you read today's Chronicle, you'll be told that "software tycoon Philippe Kahn [and his R/P 77 Pegasus] had a great start - charging out of the Golden Gate on Friday afternoon in 20 knots of wind, well ahead of her top contenders." Baloney. First of all, it wasn't blowing anywhere near 20 knots - don't they wish? - and secondly, both Robert Miller's 147-ft Mari-Cha III and Bob McNeil's R/P 86 Zephyrus V were clearly ahead of Pegasus under the bridge and past land's end.
Anyway, check out these shots of the two biggest and fastest racing boats to ever sail out of San Francisco.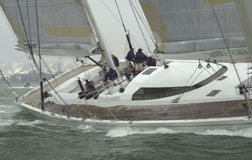 Mari-Cha III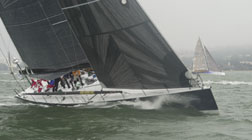 Zephyrus V
As for the event overall, 68 of the 73 entries actually started, and four of those have dropped out. Of the dropouts, the most serious is the San Diego-based Ericson 41 Mimos, whose crew left the boat for a ship 500 miles out after rudder problems. Several other boats are babying rudders or having problems.
With only one full day of reports from the big boats, the race is just beginning to shape up. The rocket fast Class G boats nearly died outside the Gate, making only 80 miles in the first 16 hours - a pathetic pace. The next 24 hours, Mari-Cha and Zephyrus turned in runs of 360 miles. Check out today's noon report at www.pacificcup.org for more about the possibility of a new course record and how the corrected times will suss out. By the way, the next time around the Pacific Cup needs to do a much better job with publicity and news updates, as very little is being produced for a very hungry audience.

Mimos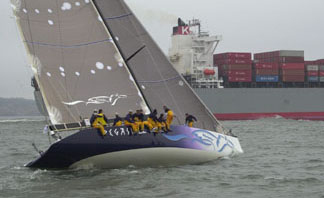 Pegasus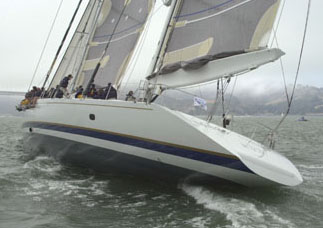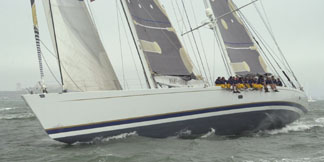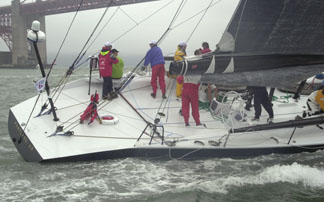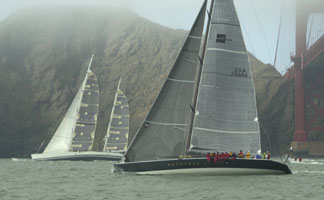 Photos Latitude/Richard & Rob