Photos of the Day
July 12 - San Francisco
Once again the Photos of the Day are from a start of the West Marine Pacific Cup, with the Santa Cruz 50s and Division F boats heading out under a foggy Golden Gate on Thursday afternoon. There was confusion at the start, as nobody seemed quite sure if they were supposed to use an inside or outside line at the St. Francis. At least one boat, Bruce Anderson's SC 50 Chicken Little from Long Beach, returned to start through the other line just to have all the bases covered. Before getting out of cell phone distance, they were reported sailing upwind! Ugh!
We're no weather experts, but taking a look at the surface winds for the Eastern Pacific, things don't look very promising for a record run. The high is far to the east and not well developed, and other than a band of 20 knot winds about 200 miles out, it appears light on the coast and light further out. Hopefully things will change, as today is the start for the Division G boats, which have the ability to smash the current record. Both Mari-Cha and Zephyrus start this afternoon at 4:40 p.m., as do the R/P 77 Pegasus, the Wylie 70 Rage, and some TransPac 52s.
As of yesterday's report, Skip Allan and Tad Palmer were leading the doublehanded class and the entire fleet with Allan's much-traveled Wylie 27 Wildflower. They covered 168 miles in 24 hours. The best 24-hour run, 192 miles, was turned in by Don Stoneburner's Olson 911 Halcyon. The big boats, of course, hadn't run for 24 hours yet, and the biggest hadn't even started.
The most recent boats to drop out were the Olson 30 Little O, with equipment problems, and Mimos, an Ericson 41, with rudder problems. Check the Pacific Cup Web site, www.pacificcup.org, to get an idea of who is moving and who is stopped out there.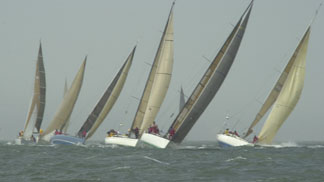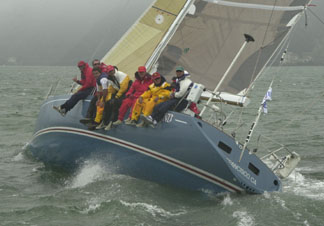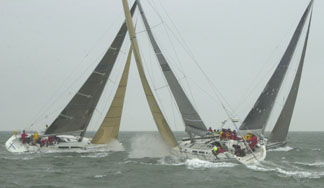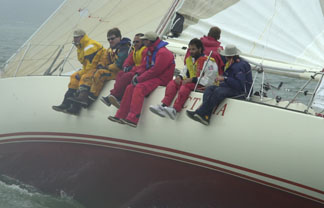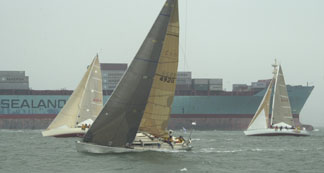 Photos Latitude/Andy & Rob