Sausalito YC Midwinter Photo Gallery
January 9 - San Francisco Bay
Despite a brief delay before the start, and a temporary parking lot after, 26 of 27 racers were able to finish SYC's third midwinter race of the season, held this past Sunday. Typical midwinter racing conditions prevailed, including a strong ebb; the fleet was grateful for a break from last week's rain and a chance to go sailing!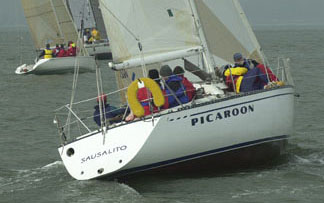 The Santana 35 Picaroon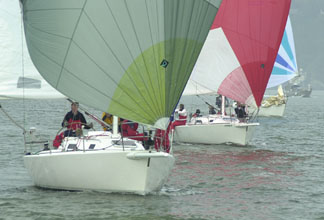 (Left to right) Whisper, Jose Cuervo and Joker.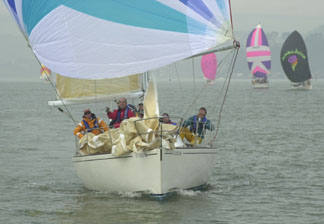 Joker finished first in their division.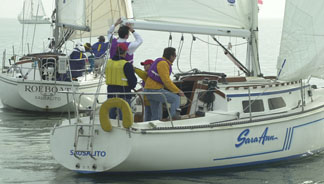 Drifting around the turning mark, Channel Marker #2. Roeboat went on to a first place finish.
Top Finishers - Spinnaker PHRF <144: 1. Gordon Smith, Joker, J/35; 2. Sam Hock, Jose Cuervo, J/105; 3. Eden Kim, Whisper, J/105. Spinnaker PHRF >144: 1. Jonathan Hagerman, Soulatitude, J/24; 2. Frank Burkhart, Island Girl, Islander 36; 3. Lowden Jessup, Polly, Bird. Non-Spinnaker PHRF <174: 1. Glenn Isaacson, Q, Schumacher 40; 2. Jan Borjeson, Basic Instinct, Elliott 10.5; 3. Pat Lopez, Aggressor, Capri 30. Non-Spinnaker >174: 1. Rod Decker, Roeboat, Catalina 30; 2. Joel Kudler, Nordlys, Knarr; 3. Paul Skabo, Spindrifter, Tartan 30.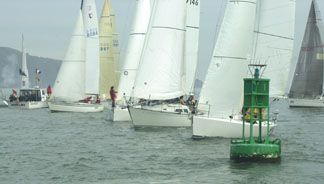 The first of four starts had wind.
That's Hazardous Waste at the pin (Little Harding).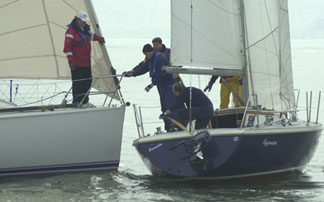 Basic Instinct making friends with Aggressor.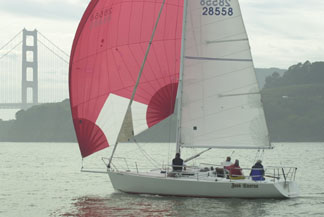 Jose Cuervo is tied for first place in the series with Joker.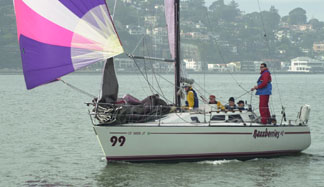 Razzberries ghosting along the Sausalito cityfront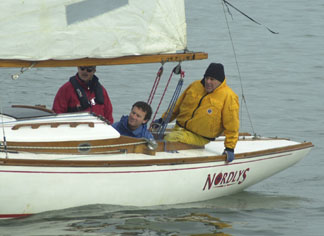 Joel Kudler and his Knarr Nordlys got a second.
All Photos Latitude/Rob