Rose Bowl Regatta
January 8 - Long Beach
The 2002 Rose Bowl Regatta took place this past weekend at Alamitos Bay Yacht Club in Long Beach. Hosted by the University of Southern California Varsity Sailing Team, 19 colleges and 44 high schools competed in light and shifty breezes. The Rose Bowl is the nation's largest combined collegiate-high school regatta. USC and Coronado and El Segundo High Schools outsailed widespread fleets of rivals to claim championships.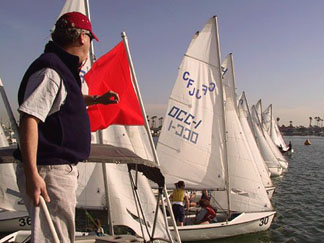 All sailed CFJ dinghies on the sheltered waters of Alamitos Bay, where conditions were shirtsleeve sunny with light winds of 3-8 knots on Saturday, followed by fading and shifty breeze on Sunday. The collegiate and high school Gold crews sailed six races each, the Silver 10. There were no protests on the college course, least of all from the eastern teams which escaped sub-freezing temperatures and snow.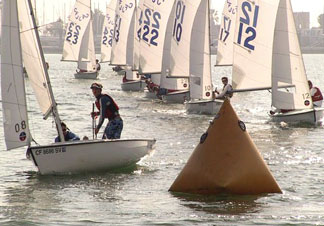 Photos Rich Roberts
Top finishers were:
COLLEGE (19 teams)-1. USC (A Division skipper Colin Campbell, junior; crew
Luke Leffingwell, freshman; B Division skipper David Levy, junior; crew
Tracey Treaccar, senior), 42 points; 2. Hawaii, 56; 3. Georgetown, 68.
HIGH SCHOOL GOLD (23)-1. (A Division skipper Mikee Andersen-Mitterling,
senior; crew Lauren Usrey, sophomore; B Division skippers Brian Haines,
senior, and Jon Nass, junior; crew Katie Eckert, freshman), 44; 2. Corona
del Mar, 60; 3. Newport Harbor, 72.
HIGH SCHOOL SILVER (21)-1. El Segundo (A Division skipper Parker Mitchell,
sophomore; crew Willy Petersen, 8th grade; B Division skipper Michael
Blunt, sophomore; crew Caytlin Hall, freshman), 71; 2. Agoura, 109; 3.
Corona del Mar JV, 144.
For complete high school results and more of Rich Roberts' excellent photos, see www.pcisa.org/2002/rosebowl_results.htm
For complete college results, see www.collegesailing.org/00intersx/f01/rosebowl.htm