Not Much Wind, Even Less Sleep for Volvo Racers
January 28 - Auckland, New Zealand

An excited crowd of 45,000 people gathered in Auckland to cheer on the eight Volvo Ocean 60s as they left the docks to the tune of blaring rock music to begin Leg 4 of the Volvo Ocean Race, and a huge fleet of spectator boats followed them out. After starting in a 15-knot easterly yesterday (Sunday) at 1300 hours local time, the competitors left Auckland behind and found light winds at East Cape, where they struggled to beat around the point in the wee hours of the morning.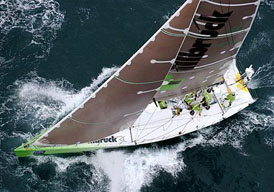 illbruck at the start of Leg 4
Photo Rick Tomlinson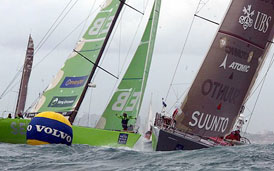 Amer Sports One and SEB tack around the Volvo buoy, a turning mark four miles from the start, where the wind blew at 17 knots.
"This has been the best start," claimed Kevin Shoebridge, skipper of current leader Tyco, "Usually we get out and it's straight to two reefs and a #4 [jib]!"
djuice skipper Knut Frostad commented, "After having spent the last twenty nights in a very nice big bed in Auckland, it's tough to get up at midnight for your first watch on deck."
An exhausted Neal McDonald, skipper of Leg 3 winner Assa Abloy, said he only got about an hour's sleep last night. "I guess most of the boats haven't had much sleep. We haven't been on a tack for more than about 10 to 15 minutes."
In the light air, the boats are all bunched up. Shoebridge says Tyco is only a half mile ahead of Amer Sports One.
In a couple more days the fleet will enter the Southern Ocean, beginning the most brutal part of the around-the-world race. Leg 4 will then take the eight yachts around Cape Horn and up the South Atlantic to Rio de Janeiro, Brazil.
To follow the action and check out more great photos from the start in Auckland, see www.volvooceanrace.com.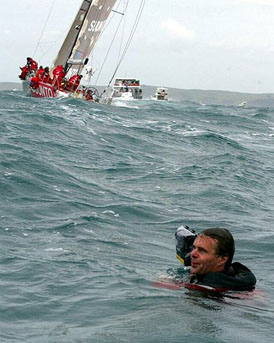 Amer Sports One cameramen jump in the water after the start. Latitude 38 photographers do this all the time on SF Bay. Oh yeah, sure!
Above Photo Courtesy Amer Sports One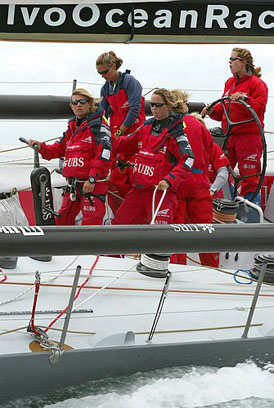 Blonde ambition: Amer Sports Too after the start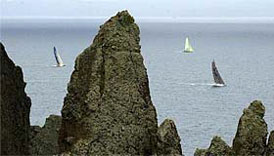 illbruck, SEB and Assa Abloy round the tip of the Coromandel Peninsula at Cape Colville.
All Photos Carlo Borlenghi/SEA&SEE
Except as Noted
All Photos Courtesy www.volvooceanrace.com