Photo of the Day
January 22 - Southampton, UK

Today's Photo of the Day comes from CNN in London. It shows Joseph Vittoria, former head of Avis Rent A Car, and the head of United Kingdom warship builder Vosper Thornycroft, standing in the mold for Vittoria's new boat, the 245-ft sloop Mirabella V. CNN claims that she will be the largest superyacht in the world, proving that although the network was started by a winning skipper of the America's Cup, the network doesn't know diddly about boats. Mirabella will, however, be the largest sloop in the world. Indeed, as we previously reported in Latitude, she won't ever be able to come inside the Golden Gate, because her mast will be 80 feet taller than the roadway.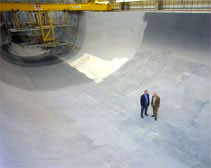 Photo Courtesy www.cnn.com
Vittoria is no stranger to large sloops. He set up a yard in Thailand in '87, and subsequently built three 131-foot, Farr designed sloops. We sailed with one of them in Antigua a few years ago, and then again two weeks ago in Antigua. The amazing thing about these three boats is the quality of construction . . . in a place where the boats were launched by elephants! When she's completed in 2003, Mirabella's expected to charter in the Med and then the Caribbean. We imagine there will be teething problems, because everything will be bigger than ever before. The working sail area, for example, won't be much smaller than the size of a football field. We want to see the genoa blocks and roller furling gear for that. When all is sorted out, she'll have 12 crew for the 12 guests.
Vittoria's new boat won't be the biggest, however. In fact, two Northern Californians are building considerably larger sailboats - although not sloops. We'll tell you about them soon.