Cruiser Shrine?
January 15 - Sea of Cortez

"We came across the 'cruiser shrine' at beautiful Caleta San Juanico in the Sea of Cortez," report Dave and Angie of the Seattle-based Magic Carpet Ride. "We had the whole place to ourselves. Someone told us the tree in the background is the sailors shrine, and cruisers leave rocks, shells and other things as evidence of their visit. However, I did not leave Dave there as a sign of my visit. Can we have a T-shirt for the photo, as I have not seen any guys willing to show their stuff for a shirt. Do you know anything about the shrine?"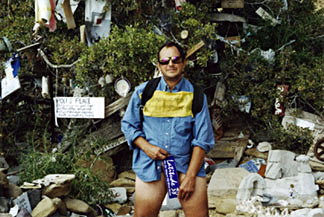 Photo Courtesy Magic Carpet Ride
Dave and Angie - The cruiser shrine at San Juanico has been around for as long as we've been sailing there, which is since the late '70s. Personally, we don't think it's the coolest thing in the world, but to each their own. As for getting a T-shirt for the photo, we don't even give women shirts for 'skinny' photos, so why would we even dream of giving one to a guy? You must have missed the Seinfeld episode about the difference between men's and women's bodies.