A Gentle Giant Falls
February 8 - Alameda
We are saddened, devastated actually, to report that our friend Carl Schumacher passed away unexpectedly last Tuesday night at his Alameda home. He was only 52 years old, and we - like everyone else in the sailing community - are struggling to make sense of this incomprehensible loss.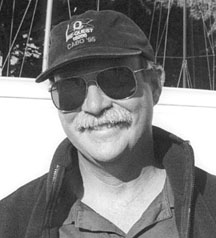 Carl, as most West Coast sailors know, was a gifted naval architect and an excellent sailor. Thousands of sailors have enjoyed racing on his production boats - most notably the Express 27, 34 and 37 - and his many custom boats, including Wall Street Duck, National Biscuit, Heart of Gold, Swiftsure 2, Recidivist, Surprise and, most recently, Q. Carl was working on two more big custom projects, and was scheduled to go to New Zealand in a few weeks to check on their construction.
Carl was a member of the Encinal and St. Francis Yacht Clubs, and he gave his time and knowledge unselfishly to many other sailing organizations, including the local PHRF board and Sailing World's annual Boat of the Year judging. He sailed in many fleets during his lifetime, and achieved national prominence by winning the Quarter Ton NAs twice with his breakthrough boat, Summertime Dream. He also owned two Express 27s over the years (Moonlight, New Moon), and was currently active in the Mercury class, as well as a partner in a new project, the Express 37 Golden Moon.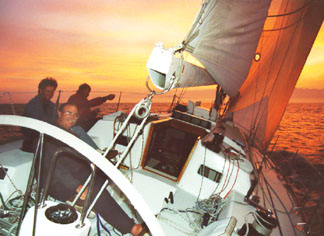 Photos Latitude Archives
But these are just some of the facts, cold and hard. What's more difficult to capture is Carl's spirit - his humility, patience, intelligence and kind demeanor. He was respected and loved by all, one of the real class acts in the sailing industry. We sailed dozens of races with Carl over the last 20 years, including long trips to Hawaii, Mexico and Jamaica, and in the course of many night watches came to know and appreciate him on many levels. He was a deep man, devoted to his family and also quite active in his church. Through his faith, Carl believed strongly in the afterlife, a fact we find comforting in this difficult time.
We've received dozens of emails and phone calls about Carl in the last few days, an outpouring of genuine emotion from his many friends and admirers. Of course, we plan to run a tribute to Carl in the March issue of Latitude 38, and welcome any and all further remembrances. We'll keep you posted about plans for a memorial service.
In the meantime, our thoughts and prayers are with his wife Marilyn, and children Sutter and Evan - and for Carl, one of the finest men we have ever had the privilege to know. We already miss Carl tremendously, and will never forget him.
- rob moore