Keeping It Clean
February 15 - Zihuatanejo, Mexico

"I've been following your Z-town stories and pictures with interest," writes Chris of Oakland. "Since I won't be sailing there just yet, I'm going to fly and stay ashore in April. But your last item about all the boats anchored off Playa de Ropa - where I'll be staying - got me wondering. Do you know whether these cruisers' effluent standards are compatible with my - and my children's - love of swimming and snorkeling? Are there places in this protected bay that have notable water quality problems, or am I way off base? Since I assume cruisers are out there to enjoy nature's oceans and also partake in healthy water activities, I'm hoping the level of awareness is fairly high. If not, I'd be happy to offer to accompany cruisers for a trip out to sea for discharge."
Good question. While we're not 100% positive, we don't think cruisers crap into Z-town Bay, for the simple reason that almost all cruisers swim in it regularly. Our normal routine - which we think is widespread - is to wake up in the morning and go to shore for a little breakfast . . . and to use the head. Naturally, there are emergencies, so you have to have contingencies. When we were down there last time, one of our crew got a little turista in the middle of the night. The options were turning on our marine sanitation device, go into a bucket for later offshore disposal, or leave it in the head for later offshore disposal. Bottom line, we think cruisers keep it clean for their own good.
Actually, we think there's a much greater danger posed by the effluence of the general population, whose numbers have swollen in the hills around the little bay. As a result, as much as we love raw oysters, we wouldn't even think of eating one in Z-town. Not anymore.
Anybody else have any input on the subject? (email Richard)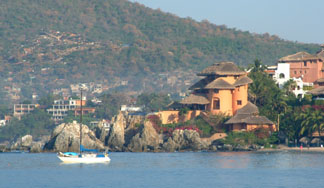 Zihuatanejo
Photo Latitude/Richard