Dirty Deed in Z-Town
February 14 - Zihuatanejo, Mexico

A short time after we learned our surfboard hadn't been stolen in Ixtapa, we received the unfortunate news that there had been a theft from nearby Z-town. Here's the details:
"We left Puerto Vallarta on January 14, headed for Panama and the Caribbean," report Tom and Kathy Knueppel of the San Francisco-based Island Packet 40 Tai Tam II. "We have had a wonderful 16 months here in Mexico and are now looking forward to other cultures and experiences. Currently in Acapulco before leaving for Huatulco to cross the Gulf of Tehuantepec, we wanted to give some advice to other cruisers in Mexico.
"Like most cruisers, we became so enamored by the friendly Mexican people and their honesty and kindness - that we never thought much about locking our boat when away from her for a few hours. Well, it finally happened to us. We had arrived in Zihuatanejo on January 22, and anchored in front of Playa La Ropa amongst about 60-70 other boats. On the evening of the 23rd, we dinghied over to Starfoam, a nearby boat to have dinner and socialize with old friends. When we got back to our boat at about 10 pm, we found that someone had come onboard and relieved us of our new Notebook computer, a set of expensive binoculars, a set of used Tevas shoes (who would want raggedy shoes?) and Kathy's purse - with all of our credit cards and her driver's license. There was no cash in the purse. It looks as though the thieves may have been disturbed by our old and totally deaf dog Moo Shoo, as they missed my wallet and open cash lying next to the computer, a hand-held VHF in the companionway, and a spare set of Fujinon binoculars. The computer was carefully unplugged and no other damage done.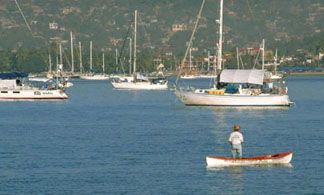 La Ropa Anchorage
Photo Latitude/Richard
"We received a lot of help and encouragement from the cruising community, as well as Rick of Rick's Bar. We did report the theft to the Port Captain and the Tourist Police, but we're not sure how much help that was. So our message is to be a bit more cognizant that others around you may see you as a very wealthy gringo and be tempted. Therefore, use common sense and secure your boat appropriately. This does not mean making it into a fortress - but then you wouldn't leave your car open in a downtown area in the USA with its windows rolled down and the car key in the ignition, right?
"This unfortunate experience has not changed our opinion about the wonderful, kindhearted, generous and warm Mexican people, and we - who have lived in seven countries - believe that Mexico is one of the safest places to be. We should just not be lulled into complacency by this wonderful country and need to use basic common sense. By the way, the Zihua Sail Fest was a blast, and the organizers deserve all the credit they can get."
Our only comment is that we wouldn't assume that the theft was the doing of Mexicans. This may sound blasphemous, but we've cruised a lot of places where there were thefts from boats, and on too many occasions the perps were other cruisers or folks who had crewed on boats.