Zihua Sail Fest
February 11 - Zihua Bay, Mexico

Zihua Sail Fest seems to be an event whose time has come, as over the February 1-3 Super Bowl Weekend, some 40 yachts gathered in Z-town for three days of parades, sailing, socializing - and excellent fund-raising. The following boats participated: Wasabi, Marna Lynn, Volante, Scarlett O'Hara, MMildred, Loncia, In The Mood, El Pacificio, Spot, Dry Martini, Kamielle, Hard on the Wind, Saucy Lady, La Vie Dansante, Kynda, Sunrise, Mariah, Wings, Seraphy, Catherine Scott, Observer, Abraxas, Fairwind, Halcyon, Capricorn Cat and Profligate. In addition, the crews of many other boats anchored in the harbor joined in by sailing on other boats, donating money, or getting in on the beach activities.
This was an event that almost didn't happen again. The Wanderer had dreamed of a semi-organized late January sailing event in Z-town for the last two years - in part because it would give him an impetus to make the 200-mile sail south of Manzanillo, the southern tip of Mexico's Gold Coast. Friends Jan and Signe aboard the Deerfoot 64 Raven, and Blair and Joan Grinols aboard the 45-ft Capricorn Cat, gave positive response to the concept, with the Grinols agreeing to take any and all aboard in a fund-raising race against Profligate. Alas, it didn't come together last winter, and by mid-January, it looked like lassitude was once again going to rule. That's when Rick of Rick's Bar, Jimmie Zinn of Dry Martini, and other cruisers really picked up the ball, making arrangements with the port captain and navy, getting shirts made, and beer donated. With them having done so much work, there was no way we could not come down with Profligate.
The Zihua Fest started with a Friday sunset raft-up aboard Profligate and Capricorn Cat, with snacks brought by cruisers, and many cases of beer provided by Sol and Corona. Originally it was just going to be a dinghy-in party on Profligate, but fortunately the ever cooperative Blair decided at the last moment to bring his cat over for a raft-up. It was a good thing he did, because nearly 100 people showed up. Everyone had a fine time and enjoyed the sunset for which Z-town is renowned.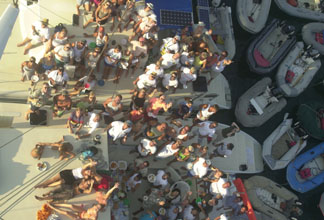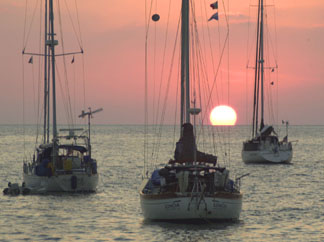 Saturday was the boat parade around the harbor and up to Ixtapa, where boats set sails to try and sail back to Z-town in light air. The fleet was honored to have the port captain, well-liked by the cruisers, and other dignitaries lead the way. A film crew also came down from Mexico City - alas, it was an unusually hazy day with very, very little wind. Oh well.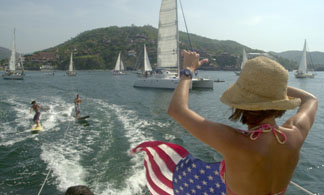 That night there was a big burger fest with traditional entertainment at Rick's Bar. During the evening festivities, Jimmie Zinn introduced some kids from the Netzahualcoyotl Indian School in Z-town, as the school would be the recipient of the funds raised.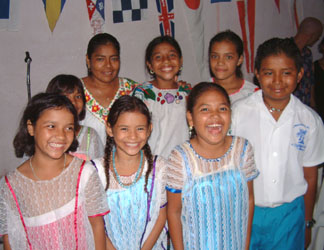 Photo Latitude/Richard
On Superbowl Sunday, Adam Sadeg of Blarney 3 organized beach games, while Capricorn Cat and Profligate had their match race for charity. Cap Cat took about 30 guests, while the larger Profligate carried about 40. Things didn't look good at the start, as there was almost no wind. Fortunately, there was about 6 to 8 knots later in the day so we had some decent sailing with the nylon sails up.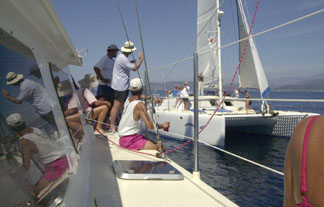 As always, the waters outside of Z-town were bluer than blue, and the race was briefly interrupted so everybody could take an offshore swim - something that might add interest to the America's Cup. After most of the crew were recovered, the racing was resumed. Down by the leeward mark of Guano Island, a humpback whale made a dramatic breech, and for the next five minutes slapped the water. The Wanderer likes to think he was waving to him.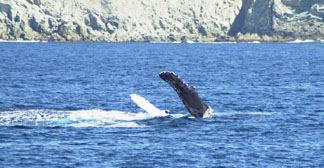 All Photos Dustin Except as Marked