Oracle BMW Whomps OneWorld to Gain Vuitton Finals
December 23 - Auckland, NZ
A come-from-behind victory yesterday gave Larry Ellison's Oracle BMW Racing team a 4-0 victory over Seattle's OneWorld, launching the Golden Gate YC-based team into the Louis Vuitton Finals.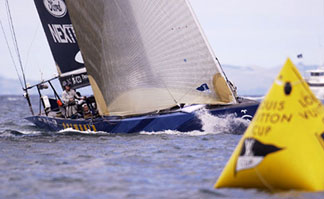 One last look at OneWorld
Photo Franck Socha/Louis Vuitton Cup
Eleven teams started the Louis Vuitton Challenge, and now only the top-rated Swiss team Alinghi and Oracle BMW are left. The first race of the Finals, to see who will face off against Team New Zealand, will be on January 11. Alinghi has had a decided edge over Oracle BMW so far, winning the most recent match-up 4-0, so they will be favored. If Oracle BMW loses, it certainly won't be because of Ellison being unwilling to cough up the money for the latest in tech equipment. OneWorld and some other syndicates are saying that Oracle BMW has been using military radar that is so effective it can read information - perhaps the opposing tactician's mind - on opposing boats. The Oracle BMW afterguard is also equipped with sunglasses that have 'heads-up' display units similar to those used on the helmets of fighter pilots. For more, check out the January issue of Latitude 38.
This is the second America's Cup in a row that a Northern California team has made it into the Louis Vuitton Finals. Last time it was Paul Cayard's AmericaOne for the St. Francis, which lost by one race to Prada. Let's hope this time homies have better luck against the Swiss.