Photos of the Day
December 17 - Zihuatanejo, Mexico
Today's Photo of the Day is of Profligate taking 45 cruisers on a fund-raising sail last February off of Z-town. It was taken by Lynn Cagle of Fairwind, who was aboard the other participating boat, Blair Grinols' Capricorn Cat.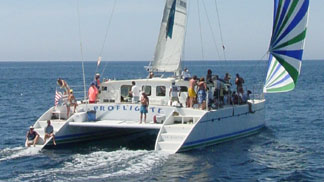 Photo Above Lynn Cagle
Photos Below Dustin and Latitude/Richard
The good news is that there will be a second Zihua Sail Fest. Jimmy Zinn of Dry Martini has the latest information:
"Details are now being finalized for the Second Annual Zihua Sail Fest. This year's event will be January 29 - February 2. Like last year, all proceeds will go to benefit the Netzahualcoyotl Indian School in Zihuatanejo. Last year we raised over $4,000 U.S. for this very worthwhile cause, and we hope to see an increase this year. Gloria and Richard Bellack of the Bellack Foundation have once again agreed to match dollar-for-dollar all the money raised. All donations through the foundation will be tax deductible for U.S. taxpayers. Here's a rough outline of the schedule:
January 30: A no-host kick off party at Rick's Bar, during which time event T-shirts and burgees will be available, last-minute registrations will be accepted, questions will be answered, and a great time will be had by all.
January 31: An absolutely stress-free fun Pursuit Race will be held, based on rough PHRF handicaps. It will be an 'either way around' course, with fun prizes for the first and last three boats. That afternoon and evening will be a dinghy raft-up and potluck appetizer party around and aboard Profligate, Latitude 38's Surfin' 63 catamaran.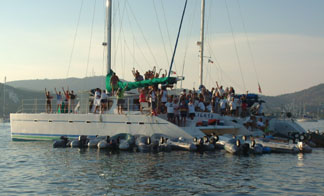 Dinghy raft-up and potluck at Profligate and Capricorn Cat
February 1: A charity sail aboard Profligate for up to 45 fun-loving people willing to cough up some extra pesos that will go directly to the Indian School. It's been rumored that John Haste might show up with his cat Little Wing, or Michael Wright with his cat Wavy, in which case it might, like last year, become a charity cat race. This is a good time for all - in fact, a break was taken in the middle of last year's event between Profligate and Capricorn Cat, during which the crews took a swim several miles offshore. If any other cats or large crew carrying boats are willing to take guests, please let us know. After the charity sail there will be beach games and more beach games, including beach volleyball, blindfolded dinghy races, cop-a-feel (you figure it out) and many others.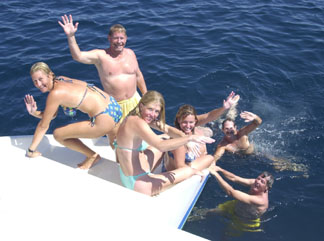 A mid-race swim break - the water was 82 degrees - for the crew.
February 2: A sail parade of the entire fleet, hopefully with dressed ship, up to Ixtapa and back. Last year nearly the entire fleet turned out. Afterwards there will be a wrap-up BBQ and beach party. This year it will be held at Las Gatas Beach Club, where there will be plenty of room for as many happy people as have the good sense to be in the most beautiful bay on the Mexican mainland.
Over the coming days we will be making available additional information on the event as well as registration details. We hope to see you all in Zihuatanejo come the end of January - or even earlier if you are as smart as we think you are!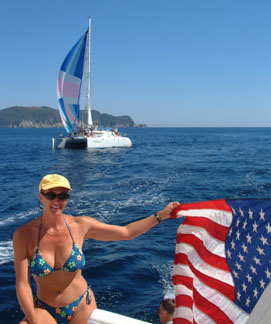 One of the Profligate crew holds the flag in the beautiful blue waters off of Zihua.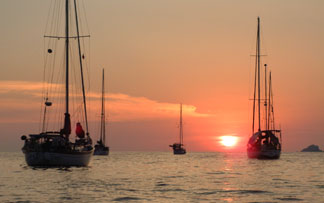 A typical sunset at Zihua
Latitude fully supports the Zihua Sail Fest, which is still in its embryonic stages. Come by boat, bus, or plane, and you're sure to have a great time. It's a long way down to Z-town and back, but it's worth it.