An Incredible Year of Sailing
December 13 - Antigua
When Mike Harker arrived in Antigua on November 29 after crossing the Atlantic, it was not only his 56th birthday, but the end of a year of remarkable sailing. Harker, whose first offshore sail was the 2000 Ha-Ha with his Hunter 340 Wanderlust, did the Baja Bash back to California singlehanded. Then in February of this year, he took delivery in Florida of a new Hunter 460. After sorting the boat out, he sailed it singlehanded across the Atlantic via Bermuda and the Azores. The first leg to Bermuda, starting from Jacksonville, took him six days. After Harker had two solid days of sleep, his weather and routing guru, Herb Hilgenberg, said right then was the time to go, so he sailed for 13 days and nights before reaching Horta. After three days of sleeping and eating, he continued on to the next island in the chain, then did a five day sail to Lagos, Portugal. He then sailed to Gibraltar, where he was met by the doctor and lawyer who had been his crew on the Ha-Ha, and continued on to Ibiza in the Balearic Islands. He spent the summer with four to six crew aboard, filming 12 episodes of a series for German television.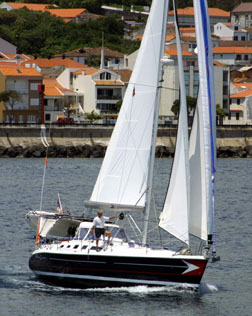 In Horta
Photo Courtesy Mike Harker
After the end of summer, he singlehanded down to Las Palmas in the Canary Islands, where he picked up a 23-year-old Swede and a 25-year-old German as crew for the Atlantic crossing. The first 1,000 miles was great, but then the rotary motor on the autopilot crapped out. That meant changing to one on, two off shifts for the next six days. They finally made Antigua after 18 days, completing a 12,000-mile Atlantic Circle and Western Med cruising in just 10 months.
Harker is proud to report that he had virtually no problems with either the boat or the gear. More in the January issue of Latitude 38, which will be distributed beginning December 30.