Challenger Trials Resume Monday
December 6 - Auckland, NZ
The Semi-Finals of the Louis Vuitton Cup Challenger Series begin on Monday in Auckland (Sunday on our side of the dateline). OneWorld will race Prada, and Alinghi will race Oracle BMW Racing.
Arbitration Panel hearings to deal with the complaints filed against OneWorld Challenge will begin on Saturday and are expected to conclude on Sunday. Sandwiched in the middle on Saturday evening will be the always-spectacular Louis Vuitton Ball.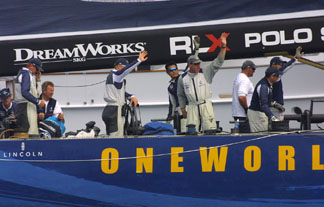 OneWorld
Photo Bob Grieser/Louis Vuitton Cup
Hopefully, the Arbitration Panel will make its ruling before racing starts on Monday. If they rule against OneWorld, the schedule could be thrown into total disarray. For details of the charges against OneWorld and a complete history of the circumstances, see www.louisvuittoncup.yahoo.com/story1285.html.
Yesterday, the Defenders, Team New Zealand, quietly and privately marked the one-year anniversary of the death of Sir Peter Blake. Sir Peter guided Team New Zealand to victory in the America's Cup in 1995 and led the campaign in 2000, when New Zealand became the first country outside the U.S. ever to defend the America's Cup. He was shot by pirates last year while exploring the Amazon. A proposal to rename Viaduct Harbour (the Cup's home in New Zealand) Blake Harbour has been postponed, as American Express has paid for title sponsorship of the Harbour, and the Kiwis won't do anything to endanger their possession of the Cup. Indeed, Blake's widow, Lady Pippa, said Sir Peter would spin in his grave if he thought the Harbour was being renamed to the detriment of Team New Zealand. For more on proposed tributes to Blake, see Catherine Masters' story in the New Zealand Herald, at www.nzherald.co.nz/americascup/acstorydisplay.cfm?reportID=62070.