A Tale of Two Heroes
August 9 - Newport, RI
Bay Area sailor Bruce Schwab and the Wylie-designed Open 60 Ocean Planet are in Newport, RI, preparing for the start of the first leg of the Around Alone Race, which departs Newport next month. Bruce writes that, "I accost onlookers, inform them about the coming race, myself, and shove donation forms in their hands. The reactions vary from total disinterest to enthusiasm. Now and then I get lucky and some have helped out. All I can say is send money now or I won't make the start. Seriously, we need about $95,000 in the next few weeks. So, only 95 people need to send in $1,000!"
Bruce has been thrilled this week to have come close to a couple of his heroes. The first is Sir Peter Blake: "Right next to us is the huge SeaMaster, imposing not only for her size (110+ ft!) and awesome exploration capabilities, but also there is the almost palpable presence of the late Peter Blake. This man was such a legendary figure in the sailing world, and the boat so impressive, that we feel tiny and humbled being next to them.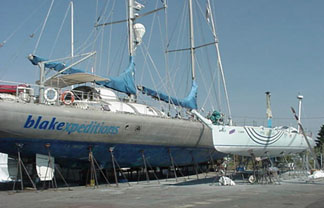 SeaMaster dwarfs Ocean Planet at the Newport Shipyard.
Photo Bruce Schwab
The second is Bob Dylan. "Yes, Robert Zimmerman himself played yesterday at the Newport Folk festival, 37 years after he was virtually booed off the stage when he 'went electric.' Although it was long sold out when I arrived in Newport, I was DYING to see the show.
"Turns out that the stage for the festival is visible from the water, so HUNDREDS of boats jammed into the vicinity in a raucous scene of swimsuits, water balloons, and every kind of boat from lasers to ski boats, inflatables, surfboards(!), to priceless motor launches. I was lucky to grab a ride on a 37' high speed tender to a huge motor yacht whose crew I had met in the yard. We gingerly wiggled our way as close as possible through the crowd and after several tries managed to get the anchor to grab with minimal scope. I had brought my small 'boat guitar' and played a few tunes to earn my ride until Mr. Dylan and his band hit the stage.
"After returning to the yard, I called (team helper) Agnes and found she was aboard SeaMaster. We were luckily invited aboard by the skipper for dinner! Aboard the boat I was in awe of the legacy left by Mr. Blake. After dinner I brought out my little boat guitar and played for the small audience of the skipper, mate, Agnes, and most meaningful to me, the ghost of Peter Blake."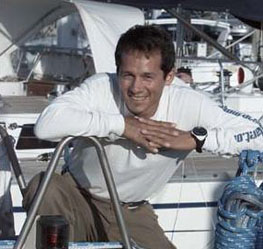 Bruce Schwab
Photo Billy Black Courtesy www.billyblack.com
Since he began this project, Bruce has been prolific in his entertaining updates emailed to friends and supporters. (He signs off one of his recent newsletters with "Hangin' at the sailing bars and playing guitar for tips!") You can catch up with them at his Web site, www.oceanplanet.org, where you will also find a contribution form.