Santa Barbara-King Harbor Race
August 7 - Southern California
The 30th Santa Barbara-King Harbor Race attracted a great turnout - 118 boats - last Friday, August 2. The 81-mile downwind sprint was sailed in light to moderate winds and flat water, perfect conditions for Bill Gibbs' 52-ft cat Afterburner to set a new course record (for both multihulls and monohulls) of 6 hours, 41 minutes. That lowered the Andrews 70+ Magnitude's previous 1999 benchmark by 13 minutes. Magnitude finished the race in 8 hours, 24 minutes - the fastest elapsed time by a monohull this year.
Three Bay Area boats participated in the mellow race, including Nemesis, Paul Martson's Encinal YC-based Antrim 27, which topped ULDB-D and had the best monohull finish on corrected time. Other noteworthy finishes were turned in by Cita Litt's bright yellow Schock 40 Cita, which easily topped ULDB-A with Oracle Racing coach Dave Ullman aboard. Check www.sbyc.org or www.khyc.org for full results, and see the September issue of Latitude 38 for more.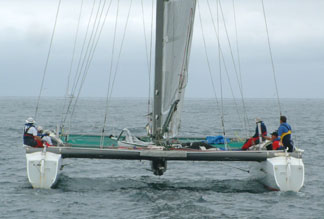 Afterburner, after the light air start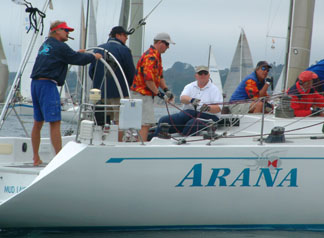 Arana, driven by the bare-footed stogie-chomping John Carroll, was over early, came back to clear themselves, and took second in PHRF-A.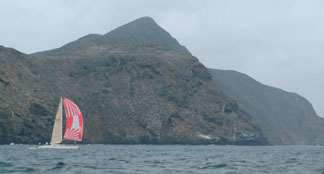 The Santa Cruz 50 Bay Wolf behind Anacapa
Island, where there was no lee for once.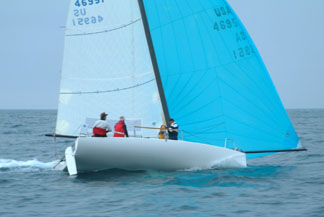 Electra, a French-built Open 5.7, appears to be out of control, their rudder out of the water. Actually, they have twin rudders, and they blew by Stark Raving Mad like the big J was standing still.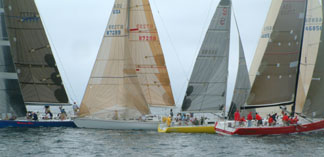 The ULDB-A start. You couldn't lay the line on starboard.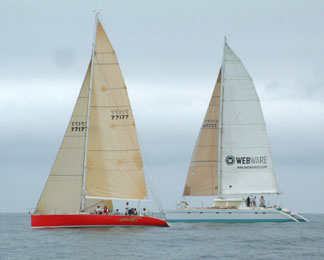 Pendragon II, winner of PHRF-A, passes Profligate.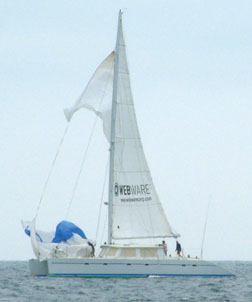 Profligate, a little later, ripping along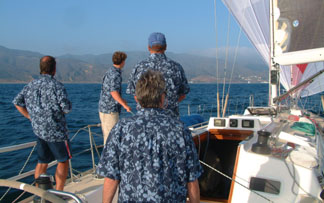 The J/160 Stark Raving Mad on-watch
enjoys the scenery at Pt. Dume . . .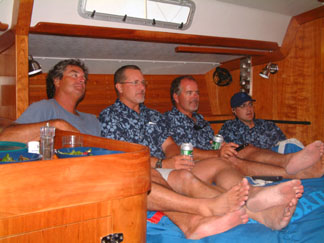 . . . while the off-watch enjoys dinner and a movie.
Photos Latitude/Rob