Prologue Race to Precede Around Alone
August 30 - Newport, RI
Around Alone 2002-03 will gather in Newport, RI, and depart for a crewed Prologue Race to New York on September 12. The Prologue Race, 160 miles to Manhattan, will set off from the Newport Boat Show in Newport Harbor on the opening day of the show. It will be a unique part of the Around Alone race because the participants won't be alone: Crews of up to five sailors will be part of teams taking the boats to New York. The Around Alone start will be on September 15. It was diverted from Rhode Island to New York City to allow the race to be part of 'Sail for America', one of the events marking the first anniversary of September 11. The Around Alone takes the fleet from New York to Torbay (England), then Cape Town (South Africa), Tauranga (New Zealand) and Salvador de Bahia (Brazil), before returning to Newport in April. The official entry list of competitors consists of 14 competitors from 10 different countries; 7 in Class I and 7 in Class II.
Canadian skipper John Dennis has inspired his sponsor, Bayer, to create an annual giving fund for people with diabetes. The Ascensia Dream Fund (called "Your Life. Your Dream.") will help people achieve a significant dream that would not be possible without control of their diabetes through self-monitoring. Dennis, a 57-year old commercial real estate manager from Toronto, is making history as the first skipper with diabetes to compete in a global solo sailing race. His boat is named Ascensia, after the new brand name for Bayer's monitors and services that help people with diabetes self-manage their condition.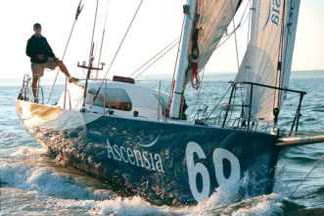 John Dennis and Ascencia
Photo Billy Black
Alan S. Paris of Bermuda explains this photo (below) of his boat, undergoing one of the many tests performed to determine seaworthiness of the competitors' vessels: "As you can see by the attached picture we pulled BTC Velocity to a 90 degree angle and then attached a gauge at the tip of the mast to measure the effort being exerted to bring the boat back upright. The obvious idea here is to see that a boat entered in this challenging race has the correct geometry to right the boat should a big wave (or more than one !!) try to knock me over. We passed.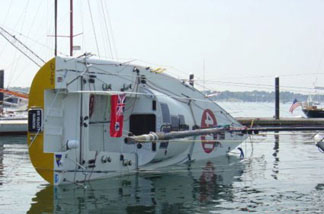 Photo Courtesy www.aroundalone.com
For more on the Around Alone, see our preview in the September issue of Latitude 38, being distributed right now!