Newport Gearing Up for Around Alone Start
August 29 - Newport, RI
Activities are getting under way for next week at the Newport Shipyard as the Around Alone 2002-03 event officially opens on Sunday, September 1. About half of the fleet are in port, including veteran American entrant Brad van Liew with the Open 50 Tommy Hilfiger Freedom America, Japanese skipper Kojiro Shiraishi with Open 40 Spirit of Yukoh, Canadian Derek Hatfield and rival Open 40 Spirit of Canada, and French skipper Thierry Dubois, with Open 60 Solidaires.
American Tim Kent and crew on Open 50 Everest Horizontal arrived in Newport Tuesday night. Said Kent, "I left Charleston, SC, on my solo qualifying trip a month ago. Some truly frightening moments, many hours of light-air frustration, my 50th birthday, 20 knots of boat speed surfing down waves, and the accomplishment of a 2,450 mile solo voyage across the Atlantic have taken place between then and now. The magic wand has still not waved, so we still need your support of our program; please contact Cheri Kent."
Next to arrive was Belgian skipper, Patrick de Radiguès, who has sailed singlehanded to Newport from his home base of Arcachon, France, onboard the Open 60 Garnier. This solo trip was not only a voyage of discovery and intense training for him and his boat, but also one of qualification for the race itself. He tackled the final miles in light airs after 20 days at sea. In true European style, he said upon arrival: "I've arrived in time for lunch! "
At age 27, sole British, female skipper Emma Richards is the youngest competitor in Around Alone 2002-03. After setting off on August 2 from Cowes, Isle of Wight, England, on her qualifying passage and delivery trip across the Atlantic on board Open 60 Pindar, British skipper Richards finally pulled into Bermuda early this morning. Suffering from very light airs during the last week, Emma's progress to Newport was slowing drastically, despite clocking up 28 knots in the first week. After checking in with the harbormaster, picking up one of her shore team plus 300 liters of diesel and some groceries, she is setting off again today for Newport. "I was getting tired, and just found it hard to sleep in this weather, so the last couple of days were frustrating, but it's been a great trip. I know I said I would resist the temptation to stop in Bermuda, but it seemed the best thing to do in order to complete my qualification. I'm just going to have a slap up lunch and then set off. There's a great 15-knot wind out there, it's gorgeous weather for sailing now!"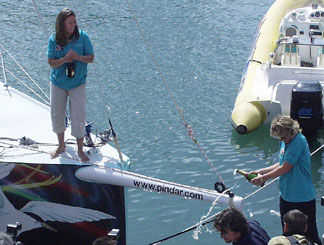 Pindar had a taste of champagne as Emma Richards prepared to depart Cowes.
Photo John Pearson, Courtesy www.aroundalone.com
We'll have more on the Around Alone tomorrow. And see the September issue of Latitude 38, which will hit maritime newsstands starting tomorrow, for our preview of the event.