Upstart Brits Steal the Stars
August 26 - Marina del Rey
Rich Roberts reports from Marina del Rey:
Iain Percy and Steve Mitchell, mere rookies among many of the world's best sailors, won the final race of the 81st Nautica 2002 Star Class World Championship Friday to give Britain its first title in the venerable class. "That's the way to take the pressure off, isn't it?" Mitchell said as they sailed into the California YC dock with the Union Jack flying from their mast. "He put that in the cool box this morning and didn't tell me," Percy said. "I would have thought it was bad luck."
The way they sailed, luck didn't matter. Neither Percy, 26, the 2000 Olympic Finn class gold medalist from Winchester, nor Mitchell, 32, of London, had sailed a Star until 10 months ago, although they had already worked their way up to the No. 17 ranking in the class. With finishes of 4-1-3-2 in the 103-boat fleet in the previous four races, they entered the sixth and final race with a four-point lead over 1990 champions Torben Grael and Marcelo Ferreira of Brazil, and nine points over France's Xavier Rohart and Yannick Adde. Although Grael finished fourth and Rohart 10th, neither ever threatened seriously Percy and Mitchell, who led at every mark. Boosted by breezes as strong as 14 knots, which they prefer, they finished 41 seconds ahead of 1998 winner Colin Beashel of Australia, who had David Giles as crew. Three-time winner Bill Buchan, 67, of Seattle, with Mark Brink, was third - by far the best performance of the week by one of the class's enduring icons. Counting Grael, Beashel and Buchan, Percy/Mitchell put away 11 former champions. Paul Cayard, the '88 champion sailing with Hal Haenel - also a world and Olympic champion as crew - placed fifth Friday to score fourth overall.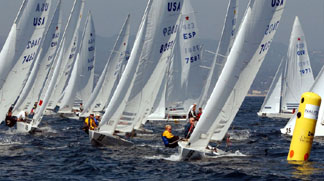 The crowd approaches W1.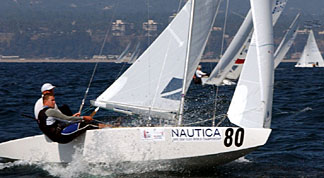 The winners on the water . . .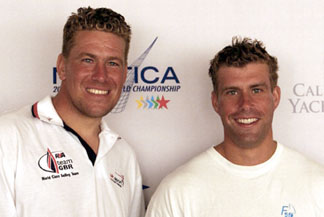 . . .and back at California YC
Photos Dick Hampikian, Courtesy www.starworlds2002.com
The top 10 (worst score discarded):
1. Iain Percy/Steven Mitchell, UK, (19)-4-1-3-2-1, 11 points.
2. Torben Grael/Marcelo Ferreira, Brazil, 3-1-5-(9)-5-4, 18.
3. Xavier Rohart/Yannick Adde, France, 6-8-2-(33)-3-10, 29.
4. Paul Cayard/Hal Haenel, San Francisco, 7-9-4-8-(40)-5, 33.
5. Rick Merriman/Bill Bennett, San Diego, (53)-7-8-4-15-12, 46.
6. Peter Bromby/Martin Siese, Bermuda, (33)-2-32-5-1-9, 49.
7. Colin Beashel/David Giles, Australia, (41)-19-11-2-18-2, 52.
8. Mark Mansfield/Killean Collins, Ireland, 2-13-17-25-7-(104), 65.
9. Mark Reynolds/Magnus Liljedahl, San Diego, (78)-5-29-1-10-22, 67.
10. Howie Shiebler/Rick Peters, San Francisco, (70)-21-30-6-4-6, 67.