The Brightest Stars Are Starting to Shine
August 23 - Marina del Rey
Rich Roberts reports: "A one-second win by Bermuda's Peter Bromby over England's Iain Percy Thursday was the overture to what looms as a rousing three-way battle Friday for the 81st Nautica 2002 Star Class World Championship. Bromby only wishes he could be a part of it. Instead, it will be Percy and crew Steve Mitchell fighting to hold off the relentless Brazilians, Torben Grael and crew Marcelo Ferreira, and those persistent Frenchmen, Xavier Rohart and Yannick Adde, for the most prestigious of one design crowns. Grael won it in 1990; Percy and Rohart would be the first from their nations to win it.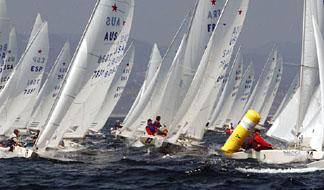 "After discarding his worst score - 19th in Race 1 last Sunday - Percy counts only a string of 4-1-3-2 finishes for 10 points, 4 better than Grael. He broke Grael's three-day grip on first place today, but neither could shake off Rohart, who discarded a 33 to leave him at 19 points with a 3-1-5-5 record. Grael can afford to sail more aggressively than the other two because his worst finish has been a ninth. 'He can come for us because he has a discard to give,' Mitchell said, 'and if he comes for us there isn't much we can do.' 'We'll just have to sail a safe and smart race,' Percy said."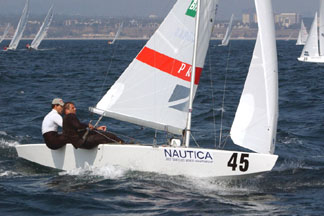 Photos Rich Roberts
The leaders (after 5 of 6 races, worst score discarded):
1. Iain Percy/Steven Mitchell, UK, (19)-4-1-3-2, 10 points.
2. Torben Grael/Marcelo Ferreira, Brazil, 3-1-5-(9)-5, 14.
3. Xavier Rohart/Yannick Adde, France, 6-8-2-(33)-3, 19.
4. Paul Cayard/Hal Haenel, San Francisco, 7-9-4-8-(40), 28.
5. Rick Merriman/Bill Bennett, San Diego, (53)-7-8-4-15, 34.