Paperwork in Paradise
August 16 - Puerto Vallata
Cruisers planning to visit Puerto Vallarta this season should be happy to learn that Karl Raggio, the well-liked former harbormaster of Marina Vallarta, now has a new role in assisting the cruising community. Working with Juna Arias - the "paperman" - at Paradise Village Marina, Karl will be on hand to expedite cruisers' clearance paperwork.
Having worked for more than a decade as Marina Vallarta's head honcho, Karl is both well known and well respected. He'll now be working in close proximity to his longtime friend, Dick Markie, manager of Paradise Village Marina, and his capable staff. Dick's staff maintains a high caliber of professionalism and courtesy, and Karl should fit in perfectly. As Dick puts it, "Karl's priceless knowledge of the local area, congenial attitude, ever-present smile and get-done-on-time attitude fit perfectly with the Paradise Village Marina reputation."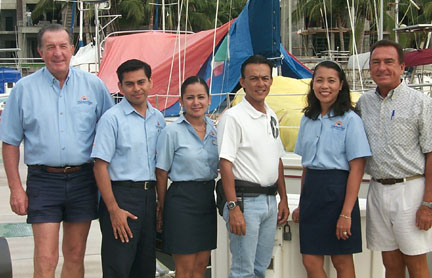 The Paradise Village Marina team. Left to right are:
Dick Markie, Manuel Castro Vargas, Rose Mary Rodriguez Medina,
Juan Pablo Arias, Gena Markie and Karl Raggio.