No Osama on Catalina
August 14 - Catalina

As previously reported, one of the reasons for our taking Profligate to Catalina this month was to stand guard against the rumored invasion by al Qaeda forces. The curious thing is that much of the Catalina landscape is similar to that of Afghanistan. Indeed, our suspicions were aroused by the sight of this semi truck roaring up the dusty switchbacks on the back side of the island near Little Harbor. There's almost nothing on the back side of the island - no Home Depot, no Costco - to warrant such a big vehicle, so we suggest that the L.A. Sheriff check out the trailer for arms, ammo, and people who don't know the Rams moved to St. Louis.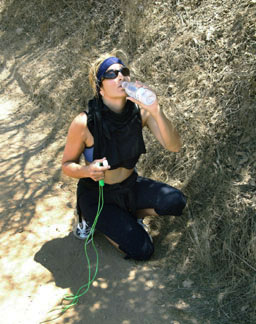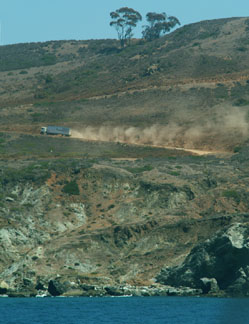 After days of searching for al Qaeda, the closest thing we could find was on the dirt road above Cherry Cove where we came across the ominous-looking individual outfitted in camo and carrying a green cord that looked ideal for garroting.

Our first impression was that the individual was the point person in an imminent attack on the recreational fleet in Fourth of July Cove. Alas, it turned out to just be Doña de Mallorca doing her morning exercises - which somehow involved a green jump rope.
Photos Latitude/Richard