How embarrassing. Yesterday afternoon, we were up by Long Point at Catalina to take a couple of photos of the Long Beach YC's race back to Long Beach. As we got in the vicinity of the starting line, we found ourselves temporarily helpless. Our steering went out, we lost one engine, which left us unable to maneuver in tight quarters, and a screwed up main halyard meant we couldn't have steered ourselves out of the way even if there had been wind. Fortunately, it was still 20 minutes before the start, and a kind soul towed us out of the area, and we got the important things sorted out.
Anyway, it was sunny and pleasant yesterday afternoon at Catalina when the fleet hit the starting line. The combination of sailing in light winds and rolling swells is something we Northern California sailors don't get often. At least not with warm sun.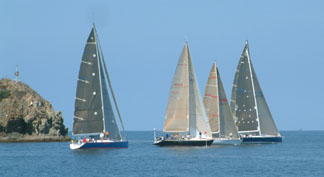 (left to right) Medicine Man, Gold Digger,
unidentified, Victoria, and just a little bit of Magnitude.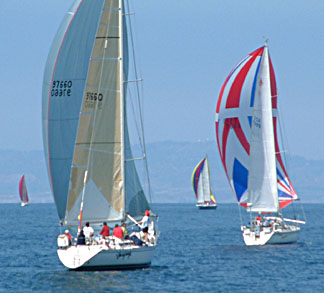 A group of boats carrying their chutes
several miles away from the island.
Photo Latitude/Richard
By the way, can anyone tell that we spent last weekend sailing from San Diego to Catalina to Newport? Well, we did, and it was a great time. More photos tomorrow.