The Un-French, Un-charter Cat
April 3 - The World of Cats

Lots of potential cat buyers bemoan the fact that virtually all production catamarans are built for the charter market - which means they tend to have wider hulls and more weight than is good for optimum performance. But now there is the Morrelli & Melvin 62, which was recently launched in South Africa, and sailed across the Atlantic to the Caribbean. There are many interesting things about this cat, not the least of which is that the limited partnership that has already sold three of them is the doing of Peter Johnstone, son of one of the co-founders of J/Boats, the monohull monolith. In fact, Johnstone is the owner of hull number #1 Tribe.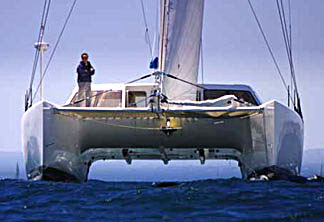 As far as we're concerned, this is the best-looking M&M cruising cat to date - and in several important ways resembles Profligate. We like the uniform height of the hulls, the large saloon with big windows, the broad decks for easy walking forward, the self-tacking jib, and the overall simplicity. We're envious of the lightweight carbon rig, carbon forward beam, carbon compression post, and Aramid rigging. We also like the underwater shape of the bows. One thing we don't envy is the forward steering station, a concept pioneered by Chris White. With all due respect to everyone from Chris White on down, we think the concept is bizarre, as it reduces visibility of the most important areas, and often leaves the helmsman out in the worst weather, and stations him where the weather is the roughest. Of course, where Catana and Lagoon place the helms on their larger cats - dual helms way aft and in the open - seems almost as silly. We have two wheels on Profligate, one on each side behind the saloon bulkhead. After five years, we think this is the only way to go, as it offers great protection from the weather, and excellent visibility all around. But to each their own.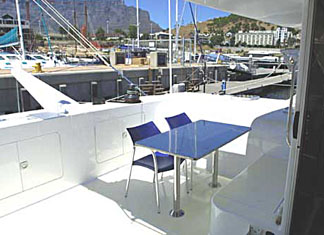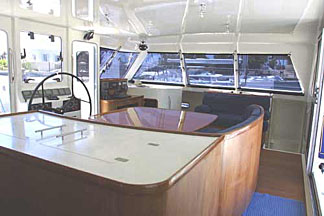 The M&M 62 is built by Jaz Marine in South Africa, and Pete Melvin compares the quality of their work to the best custom yards in New England. Big and high tech cats don't come cheap, even in South Africa, where labor rates are low. Melvin reports that fully outfitted 62s are selling for about $1.2 million U.S. But we like the looks of this boat, and suspect that this high tech, lightweight speedster, will leave all other similar cruising cats - including Profligate - in her wake. Actually, we like the general looks and concept so much, we hope Morrelli & Melvin will design a similar 55-ft version. For details and more photos of this cat, visit www.morrellimelvin.com/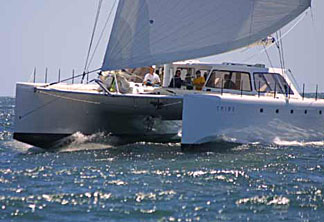 All the accompanying photos were taken by Clint Clemens, owner of hull #2.